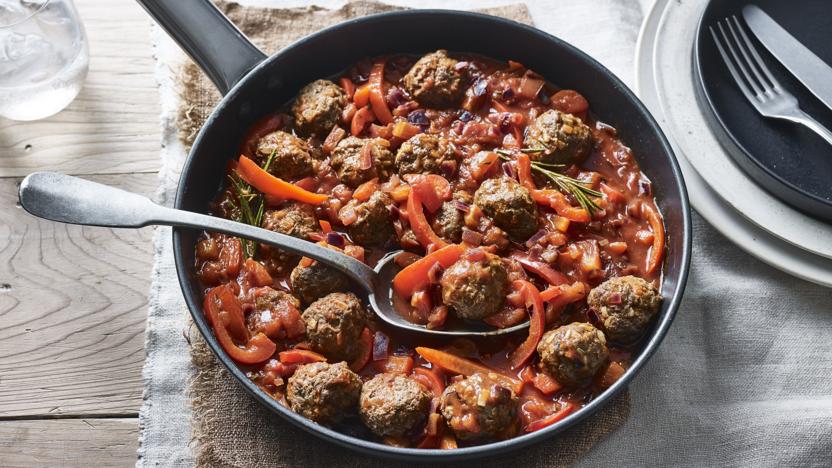 These healthy meatballs are simmered in a rich red sauce packed with peppers and tomatoes and the warmth of smoked paprika. Serve with cooked brown rice, quinoa or a mixed salad.

Each serving provides 407 kcal, 26g protein, 32g carbohydrates (of which 26g sugars), 17g fat (of which 4g saturates), 11g fibre and 0.9g salt.
Ingredients
For the meatballs
For the red pepper and tomato sauce
Method
Preheat the oven to 200C/180C Fan/Gas 6. Brush a baking tray with olive oil.

In a large bowl, combine all the meatball ingredients and mix together using your hands. Shape the mixture into about 25 small, compact meatballs. Place the meatballs on the baking tray and bake for 15–20 minutes, until lightly browned.

Meanwhile, make the sauce. In a large frying pan, gently heat the olive oil, add the onions and fry for 2–3 minutes until they have softened. Add the garlic, put the lid on and continue to fry over a gentle heat for 5 minutes.

Add the passata, season with salt and pepper and then add the paprika and warm through gently for 1–2 minutes.

Add the peppers, tomatoes and rosemary, stir, then cover the pan and simmer gently for 15 minutes.

Add the meatballs and cook for 15 minutes over a very low heat. Turn off the heat and leave for 10 minutes for the flavours to blend.

Serve hot with brown rice or quinoa and a mixed salad.