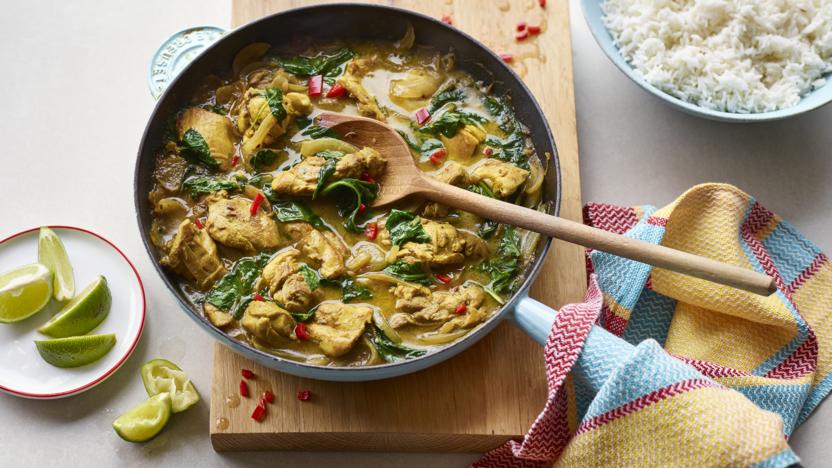 A lighter coconut chicken curry that still packs a flavour-punch! The richness is reduced by only using a little of the coconut cream from a tin of coconut milk, but you still get the wonderful flavour. Serve with freshly cooked rice or cauli rice.

Each serving provides 538 kcal, 35g protein, 11g carbohydrates (of which 7g sugars), 39g fat (of which 20g saturates), 3g fibre and 1.6g salt.

Method
Put the quartered chicken thighs into a bowl with the spices, lime or lemon juice and salt. Toss together well.

Heat the oil in a medium non-stick frying pan and fry the chicken pieces for 4–5 minutes, or until lightly browned and cooked through, stirring regularly. Set aside.

To make the sauce, heat the oil in a medium non-stick frying pan. Add the cumin seeds and cook for 10–15 seconds, then stir in the onion. Reduce the heat to low and cook for 5–6 minutes, or until softened, stirring regularly. Add the ginger and garlic and cook for 2–3 minutes more, stirring constantly. Pour the coconut water and coconut cream into the pan and bring to a simmer. Add the chicken to the pan and simmer for 3–4 minutes, or until cooked through. Stir in the chilli and spinach (or pak choi) and allow to wilt for 1–2 minutes.

Divide the curry between 2 plates and serve with basmati rice.
Recipe Tips
Any leftover coconut milk or coconut cream freezes well for use in other recipes.
Buy good-quality, full-fat coconut milk as the coconut cream doesn't separate in some (look for a high percentage of coconut extract in the ingredients list). Chilling the tin in fridge before using will also encourage separation.