Healthier banana pancakes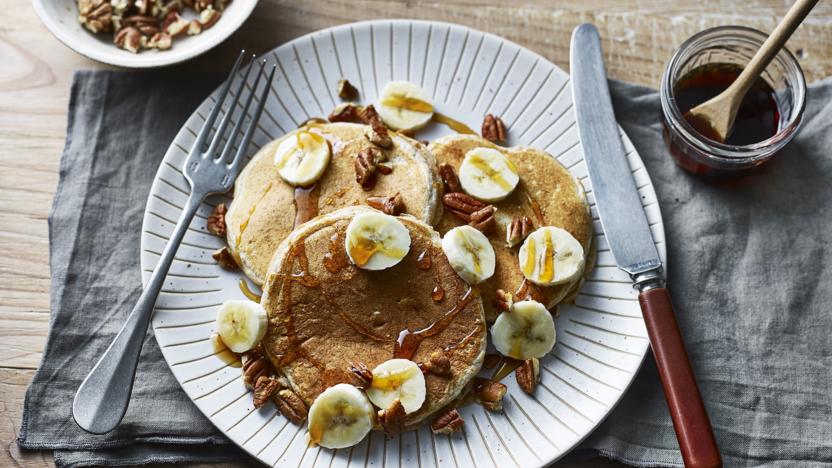 Deliciously light and fluffy banana pancakes, made healthier by using wholemeal flour for extra fibre. Serve in stacks with sliced banana and crunchy pecan nuts, or mixed berries.

Each pancake (without the optional toppings) provides 97 kcal, 3g protein, 15g carbohydrates (of which 7g sugars), 3g fat (of which 0.5g saturates), 0.5g fibre and 0.2g salt.
Ingredients
To serve (optional)
Method
Put the flour and baking powder in a bowl and mix lightly. Make a well in the centre and break the egg into it. Add half the milk and beat, using a wooden spoon, to form a thick batter.

Reserve 1 tablespoon of the remaining milk and add the rest to the batter, along with the mashed banana. Mix until combined.

Place a large non-stick frying pan over a medium heat. Brush a little of the oil over the pan with a heatproof brush. Once the pan is hot, pour a small ladleful (around 2 dessertspoons) of the batter onto one side of the pan; it should spread to approximately 9cm/3½in in diameter. Make three more pancakes in the same way.

Cook the pancakes for 1½ minutes, or until bubbles appear on the surface and the edges look dry and slightly shiny. Quickly and carefully flip over and cook on the other side for 1½ minutes, or until light, fluffy and pale golden brown. If you turn the pancakes too late, they will be too set to rise evenly. You can always flip again if you want the first side to be a little browner.

Transfer to a warm plate (in a single layer so they don't get squashed) and cook another eight pancakes in the same way, brushing the pan with a little more oil between each batch. (If the batter begins to thicken too much, add the reserved milk.)

Serve in stacks with sliced bananas, pecan nuts and a little ground cinnamon, with a spoonful of yoghurt and a drizzle of honey or maple syrup if you like.
Recipe Tips
Make sure you use ripe bananas as they will add sweetness to the pancakes.
If you don't have self-raising wholemeal flour, use plain wholemeal flour and add 1½ teaspoons baking powder.