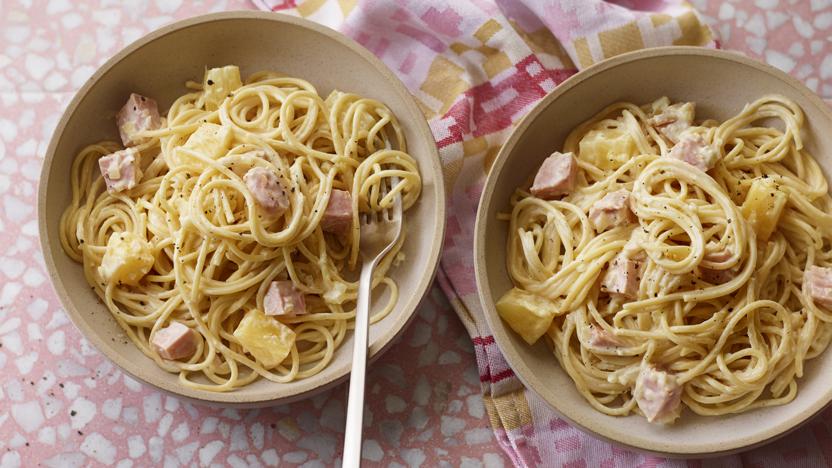 A family-friendly pasta recipe that makes the most of cheap tinned foods. If your kids love Hawaiian pizza then this ham and pineapple pasta is a great twist to try for a quick mid-week dinner.
Method
Cook the spaghetti or pasta in a saucepan of boiling salted water according to the packet instructions.

Meanwhile, melt the butter in a medium saucepan over a low heat. Gently fry the onion for 4–5 minutes, or until softened but not coloured. Add the garlic and chunks of ham and cook for 2–3 minutes more, stirring regularly.

Drain the pineapple, reserving the juice. Add the cream cheese and pineapple chunks to the onion and garlic, along with half the juice. Cook together for 2–3 minutes, or until the cheese melts and the pineapple pieces are hot. Add the remaining juice and heat through gently.

Drain the pasta then return to the pan and add the ham and pineapple sauce. Season with a little salt and lots of black pepper. Toss together until the spaghetti is lightly coated in the sauce and serve immediately.
Recipe Tips
In March 2022 this recipe was costed at an average of £3.58 when checking prices at four UK supermarkets. This recipe is designed to be made in conjunction with a low-cost store-cupboard, for more details click here to see how our budget recipes were costed.