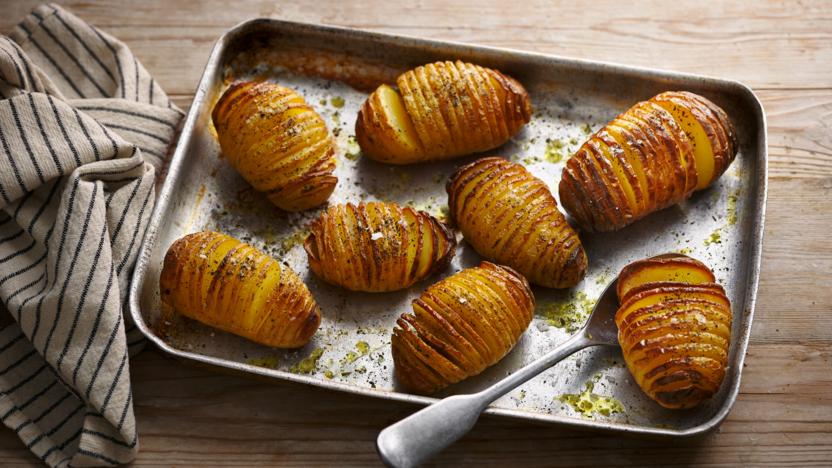 Is it a roastie? Is it a jacket spud? Is it a big round chip? No – it's a hasselback potato, crisp on the outside, soft in the centre, looks posh but is easy to make and perfect with steak, chicken or fish.

Each serving provides 233 kcal, 3g protein, 28g carbohydrates (of which 1.5g sugars), 11.5g fat (of which 3g saturates), 3g fibre and 0.7g salt.
Method
Preheat the oven to 200C/180C Fan/Gas 6. Lightly oil a baking tray. Mix the herbs, salt and pepper in a large bowl. Pour the oil into a second bowl.

Place two wooden spoons or chopsticks on a chopping board, about 5cm/2in apart. Place the potatoes one at a time between the handles. Using a sharp knife with a thin blade, cut the potatoes very thinly and vertically almost all the way through – the knife will stop slicing when it meets the spoons. Each slice should be a little narrower than a pound coin.

As you prepare each potato, add it to the oil and turn to coat, then add to the seasoning mix and rub all over the potato, making sure a little of the seasoning mix gets in between the slices.

Place the potato on the baking tray, cut-side up. Prepare the remaining potatoes in the same way. Drizzle any remaining oil over the potatoes and bake for 40 minutes.

Take the tray out of the oven and dot each of the potatoes with a little butter, then bake for a further 10 minutes, or until golden, crisp and tender. Check for tenderness with the point of a knife or the tip of a skewer. (If you don't want to use butter, cook the potatoes for around 50 minutes in total.) Serve immediately.
Recipe Tips
Choose similar-sized small potatoes so they cook at the same time. Ideally, choose all-rounder or floury potatoes, such as Maris Piper. New or waxy potatoes will work but the texture will be firmer.
You can use a deep wooden spoon to slice the potatoes. Place a potato into the bowl of the spoon, slice down through the potato and the knife will stop where it meets the edge of the spoon without cutting all the way through.