Mini hash browns and homemade baked beans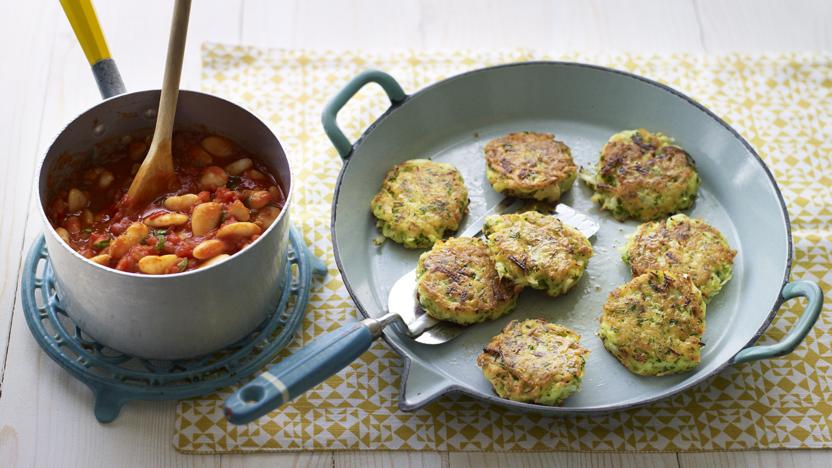 A vegetarian breakfast, brunch, lunch or dinner – these little hash browns with baked beans are quite the crowd-pleaser.


Ingredients
For the baked beans
For the hash browns
Method
To make the homemade baked beans, heat the oil in a large saucepan and gently fry the onion and garlic for 2–3 minutes, stirring regularly. Add the tomatoes, tomato purée, sugar, vinegar, basil, chilli and sweet paprika, and bring to a simmer. Cook for 10 minutes, stirring occasionally.

To make the hash browns, line a colander with a clean tea towel and tip the onion and potato on top. Bring up the sides of tea towel and squeeze hard into the bowl to remove the excess liquid.

Put the potato and onion in a mixing bowl, and add the flour, cheese, parsley and beaten egg. Season well with salt and pepper and mix well.

Take about an eighth of the mixture and roll it into a ball roughly the size of a golf ball. Put on a tray and continue rolling the rest of the potato mixture in the same way until you have eight balls on the tray. Flatten each one with a spatula.

To finish the baked beans, add the drained beans, yeast extract (if using) and salt and pepper. Continue cooking for a further 5 minutes, or until the beans are hot and the sauce is thick.

To cook the hash browns, pour the oil into a large frying pan and place over a medium heat. Add the hash browns to the pan using a spatula, and cook for about 5 minutes on each side, or until golden-brown and crisp. Use two pans if one isn't large enough to hold them all. Make sure that the heat isn't too intense or the hash browns will burn on the outside before the potato on the inside is cooked.

Drain the hash browns on folded kitchen paper. Transfer to plates and serve hot with the baked beans.