Harissa-roasted cauliflower steaks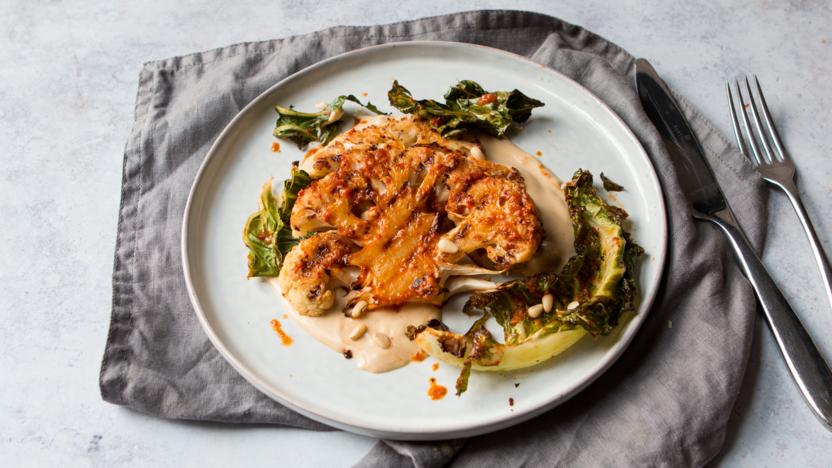 Made from a few simple ingredients, this vegan cauliflower dish wouldn't look out of place in a smart restaurant. Serve as a starter, or with a salad for lunch or a light meal. Making your own harissa is really easy, but if you're short of time you can use a jar of ready-made harissa instead.

Each serving provides 270 kcal, 12g protein, 18.5g carbohydrates (of which 12g sugars), 14.5g fat (of which 1g saturates), 8g fibre and 1.4g salt.
Ingredients
For the harissa
To serve
Method
To make the harissa, place all the ingredients into a food processor with a pinch of salt and blend, or use a pestle and mortar to grind until smooth.

Preheat the oven to 200C/180C Fan/Gas 6.

Rub the garlic cloves over the cauliflower steaks, then rub a teaspoon of the harissa you made and a pinch of salt over each steak, ensuring the entire steak is covered. Drizzle 1 teaspoon of the olive oil over a baking tray. Place the cauliflower on the baking tray and bake for 20 minutes. Turn over and bake for another 15 minutes (or 20–23 minutes if you like a slightly crispier texture).

Oil another baking tray. Wash the reserved leaves and remove any tough stalks. Put the leaves in a bowl along with 1 teaspoon of harissa and ¼ teaspoon of salt then rub the leaves to coat them in harissa. Place on the baking tray. Bake for 15 minutes, or until crisp.

To serve, divide the hummus between two plates and top with the cauliflower steaks. Add the crispy leaves around the plate and finish with a sprinkling of toasted pine nuts and a drizzle of harissa.
Recipe Tips
If you make your own harissa, you will have quite a bit leftover which can be stored in the fridge and used in other recipes.