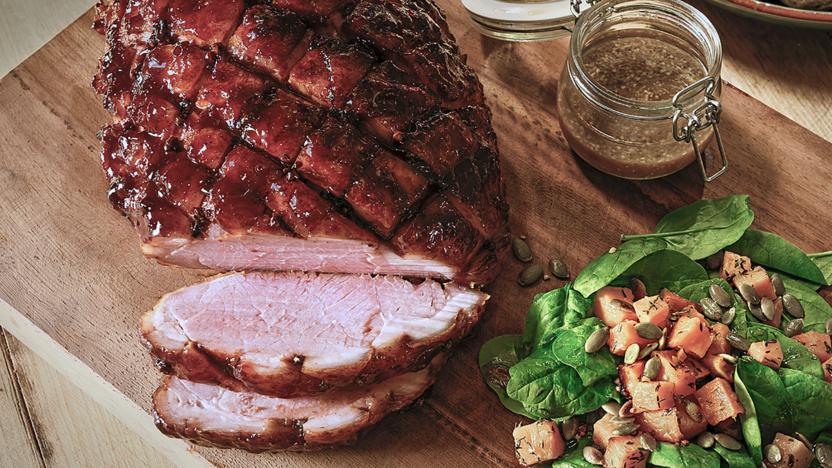 Christmas ham is a festive favourite in many house holds. This one by the Hairy Bikers is made with cherry conserve, whiskey, ginger and cinnamon for a twist on the usual festive spices!


Method
Put the gammon in a large saucepan and cover with water. Bring to the boil, then drain. Rinse off any white starch from both the ham and the saucepan, then return the ham to the saucepan. Cover with water again.

Stud the onion with the cloves, and add to the pan with all the remaining ingredients.

Bring to the boil, reduce the heat and simmer, covered, for 2–2½ hours, or until the ham is cooked through – the internal temperature should reach 68C/154F (you can use a meat thermometer to check). Remove from the heat and either leave to cool in the liquor or immediately transfer to a work surface.

Preheat the oven to 200C/180C Fan/Gas 6.

To prepare the gammon for glazing, cut off the string and cut away the outer rind, leaving at least half the thickness of fat underneath attached to the ham. Score a diamond pattern on the fat and stud cloves into each corner.

To make the glaze, blend the cherry conserve using a food processor or hand-held blender to get it as smooth as possible, then put it in a saucepan with the bourbon, ginger, sugar and cinnamon.

Bring to the boil and simmer for 15 minutes, or until the liquid has reduced enough to coat the back of a spoon. Brush the glaze over the ham, making sure you use it all.

Place the ham in a roasting tin and roast in the oven for 20–25 minutes, or until it is well browned. Serve in slices.
Recipe Tips
Use a meat thermometer to check the ham is thoroughly cooked in the pre-boil stage.
This recipe is from...
Recipes from this episode