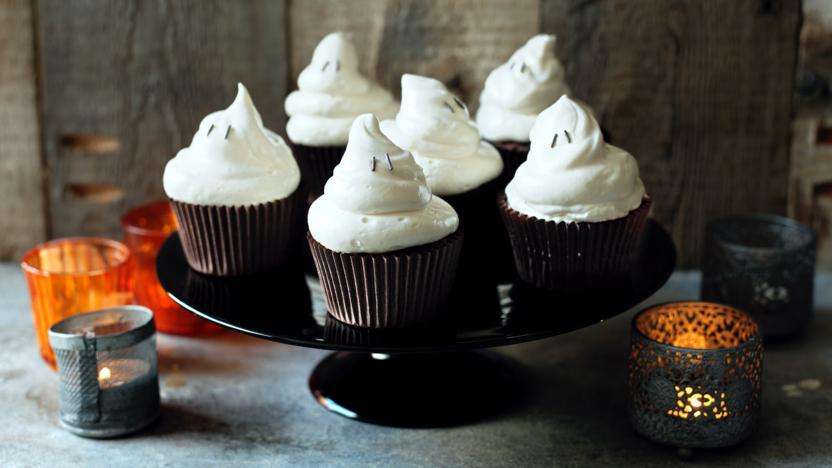 Halloween food doesn't have to be icky. These cute ghost cupcakes are great for younger kids' Halloween parties.
Ingredients
For the cupcakes
For the marshmallow icing
Method
Preheat the oven to 180C/350F/Gas 4. Line twelve muffin tins with muffin cases.

For the cakes, beat together the butter and sugar with a hand-held mixer until very light and fluffy. Add the eggs a little at a time beating well after each addition. Add the vanilla extract with the last of the egg.

Sift together the flours, bicarbonate of soda and cocoa into a large mixing bowl.

Gently fold the flour mix into the butter mixture along with the buttermilk until completely combined and smooth.

Place a dessertspoonful of the batter into each muffin case then bake in the oven for 20 minutes until firm to the touch.

Place on a wire rack to cool.

For the icing, place the sugar, golden syrup and four tablespoons of water into a large saucepan. Heat gently, stirring until the sugar has dissolved.

Bring the sugar syrup to the boil and cook for about 5-6 minutes until the syrup reaches 115C/239F when measured with a sugar thermometer. Remove the pan from the heat.

While the syrup is boiling, in a large bowl whisk the egg whites with a hand-held mixer until soft peaks form when the whisk is removed. Then, with the mixer on a low speed, pour in the sugar syrup in a thin steady stream - be careful not to pour the syrup onto the beaters as it may splash onto your hands.

Once all the syrup has been added increase the speed of the mixer and mix for about 10 minutes until the icing is completely cool, thick and glossy. Do not skimp on the whipping or your icing will be too soft and your ghosts will sag.

Place the icing into a piping bag fitted with a large plain nozzle. Pipe a circle of icing onto each cupcake. Then, holding the bag upright over the centre of the cake, pipe a tall mound of icing, then quickly pull the tip away to form a small peak on the top.

Add chocolate sugar strands for eyes or any decoration you fancy. The meringue icing will keep out of the fridge (the sugar syrup will have pasteurised the egg white), but make sure they don't get too hot or the meringue will melt.