Halloween Franken-cupcakes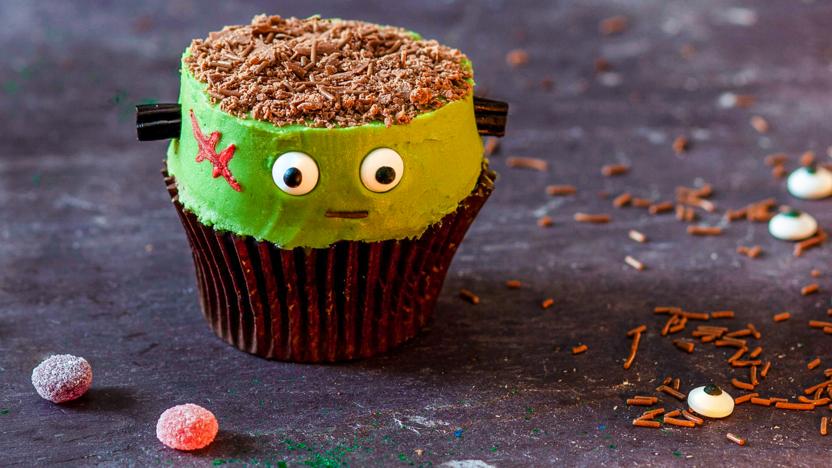 Please your little monsters with these cute Franken-cupcakes for a Halloween party. They can even help decorate!
Ingredients
For the cupcakes
For the buttercream
For decoration
Edible candy eyes
chocolate sprinkles
chocolate flake, crumbled
soft black licorice twists
Method
Preheat the oven to 180C/350F/Gas 4. Line a muffin tray with 9 paper cases.

Sift the flour, cocoa powder and baking powder into a bowl. Add the sugar and butter and beat the mixture together until well combined.

Whisk in the egg and milk until the mixture is thick and smooth.

Divide the mixture between the paper case and bake in the oven for 20-25 minutes, or until springy to the touch and skewer inserted into the middle of one of the cakes comes out clean. Set aside to cool on a wire rack.

Put the butter into a large bowl and beat with an electric hand mixer until light and fluffy.

Sift in the icing sugar, then work it into the butter, starting slowly at first, then beating more vigorously once all the sugar is combined.

Add the milk and the vanilla, then beat until creamy and smooth.

Set aside 1 tablespoon of the icing to colour red. Colour the remaining icing green (you may need to add the tiniest amount of red to make an olive green colour).

Place a heaped tablespoon of icing on each cupcake. Use a palette knife to smooth the sides at an angle and flatten the top.

Decorate with licorice twists, candy eyes, crumbled flaked chocolate and chocolate sprinkles. Use the red icing to draw on stitches with a cocktail stick.