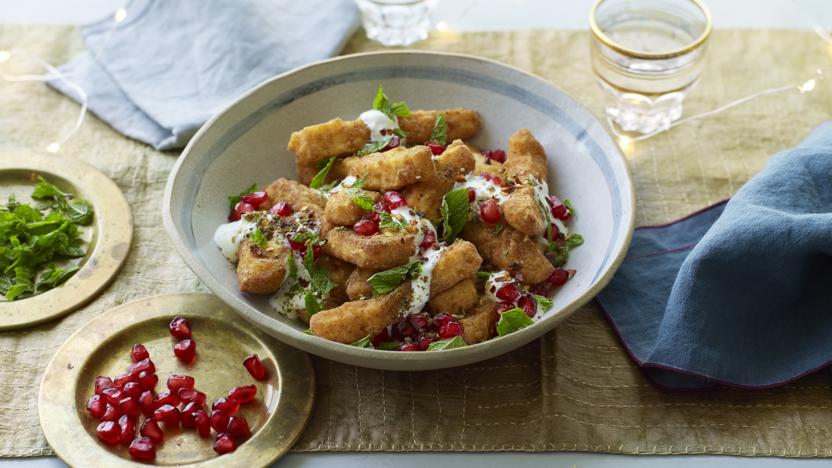 These halloumi fries have a light, crisp outer shell and the halloumi goes all gooey and creamy as it warms up. With this garnish, fries just got exotic!


Ingredients
For the garnish
Method
Preheat the oven to 170C/150C Fan/Gas 3½.

Pat the cheese dry with a clean teatowel or kitchen paper.

Put the flour, paprika, garlic and some onto a plate and mix well. Put the beaten egg in a shallow bowl. Have a baking tray at the ready, large enough to lay all the chips on. Coat the cheese first in the beaten egg, then in the flour mixture and pop onto the tray. Make sure you cover them evenly. Take each floured bit of cheese and put it back into the flour for a second coating.

Put the oil into a deep saucepan over a high heat. If you have a thermometer, the temperature of the oil should be 150C for a slow gentle deep-fry. If you don't have a thermometer, test whether the oil is hot enough by dropping a breadcrumb in and if it floats the oil is ready. (CAUTION: hot oil can be dangerous. Do not leave unattended.)

Lower the heat and add a few bits of cheese to the pan – not too many, as they need to be able to move around. Be careful not to overcrowd the pan or this will reduce the temperature of the oil too much. The chips will take about 2–3 minutes: the outside should be deep golden brown. With a slotted spoon, take out the fries and put them on the baking tray. Put the tray into the oven to keep the cheese warm and the outside crisp. Fry the rest of the chips in batches, making sure to keep them warm in the oven as you go.

Once you are ready to serve, drizzle over the soured cream, sprinkle over the salt, za'atar, mint and chilli flakes, and top with the pomegranate seeds.