Halloumi and watermelon skewers with tamarind dip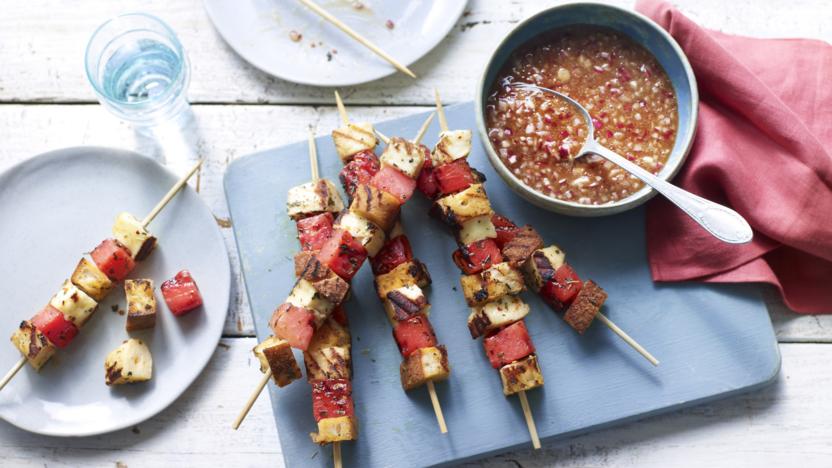 I am obsessed with this tamarind dip and eat it with almost anything. It works really well with these skewers – a mixture of crisp bread, juicy watermelon and salty halloumi.
Ingredients
For the marinade
For the skewers
For the dip
Method
Soak eight wooden skewers in cold water for 15 minutes.

To make the marinade, put all the ingredients in a jug and mix together.

Pour freshly boiled water over the halloumi in a bowl and leave for 20 minutes. This will make the cheese really soft and smooth in the centre when cooked.

To make the skewers, drain the halloumi, then place in a large bowl with the watermelon and bread. Drizzle over the marinade and mix together with your hands. Skewer cubes of halloumi, watermelon and bread alternately until you run out of skewers. If there is any marinade left, drizzle all over the skewers.

For the dip, mix the tamarind paste, 100ml/3½fl oz water, honey, cinnamon and red onion together in a bowl. Set aside.

Place a griddle pan on a high heat and brush lightly or spray with a little oil. Griddle the skewers for about 6 minutes, turning every 1–2 minutes so that you char each side. Alternatively, you can cook them under the grill for 8–10 minutes, turning occasionally. Serve the skewers with the tamarind dip.
Recipe Tips
These skewers are great on the barbecue but just as good done indoors on a griddle or under the grill.
This recipe is from...
Recipes from this episode