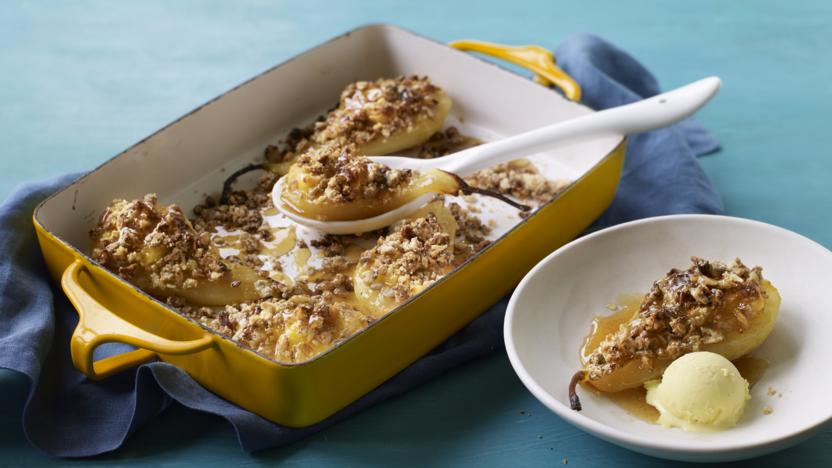 For Nadiya's pear crumble, individual pears are poached, then baked with a sweet marzipan centre and topped with a crunchy crumble. Serve with a scoop of ice cream.


Ingredients
For the pears
For the crumble topping
Method
Put the pears into a medium saucepan with the apple juice and vanilla pod, making sure to scrape out the vanilla seeds into the apple juice. Boil the pears in the juice for 20–30 minutes, or until they are tender.

Preheat the oven to 200C/180C Fan/Gas 6 and have a roasting dish at the ready, large enough to fit all 6 pear halves.

Once the pears are poached, take them out of the pan, leaving the poaching liquid behind, and drain them on kitchen paper. Remove the vanilla pod from the poaching liquid and add the demerara sugar, then bring to the boil on a high heat and cook until the volume of the juice has reduced and is thick and syrupy.

For the crumble topping, put the flour and butter into a bowl. Rub in the butter with the tips of your fingers until the mixture looks like breadcrumbs. Mix in the sugar and granola.

Once the pears have cooled, use a teaspoon to take out the core from each one. Place the pear halves in the roasting dish and fill the cavities with chunks of marzipan.

Pat the crumble on top of each pear half and bake in the oven for 20 minutes.

As soon as the pears are ready, take them out and serve hot. The juice should have reduced by now, so drizzle it all over the pears and serve with ice cream.
This recipe is from...
Recipes from this episode