Pan-fried hake with stewed artichokes and clams
Hake, artichokes and clams are served in a saffron, hazelnut and pancetta sauce in this bistro-style recipe.


Ingredients
For the sauce
For the pan-fried hake
Method
To make the sauce, bring the fish stock to the boil, then remove from the heat, add the saffron and leave to infuse for about 20 minutes while you prepare the rest of the ingredients.

Peel the artichokes with the help of a paring knife, discard the harder outer leaves and the skin on the stalk. If the artichokes are older, remove the choke (the hairy looking thing at the heart of the flower itself). Cut them into quarters or sixths depending on the size. Leave in a bowl of cold water with a squeeze of lemon juice to stop them discolouring.

To make the sauce, place a large frying-pan over a medium heat, pour in a dash of olive oil, add the artichokes and fry for 3 minutes. Add the onion, smoked pancetta and hazelnuts and fry for 5 minutes, then add the garlic and after another minute, the paprika and flour.

Add the garlic and a minute later, add the paprika and flour. Stir for another minute then pour in the white wine and the saffron-infused fish stock. Do this slowly while stirring to dissolve any lumps.

Add the prepared clams, season with salt and pepper and let it all simmer for about 2 minutes, with or without a lid on depending on whether the sauce needs reducing or not. Finish with a sprinkle of chives and a good drizzle of extra virgin olive oil. Discard any clams that do not open.

To make the pan-fried hake, pre-heat a frying pan over high heat. Pat dry and season the hake loins with salt and pepper. Add the oil to the pan and once hot, add the fish to the pan skin-side down, reduce the heat to medium and let it cook for 5 minutes on the skin side and 2 minutes on the other. Keep warm until ready to serve.

Spoon the artichokes and sauce into a serving bowl, and top with the hake.
This recipe is from...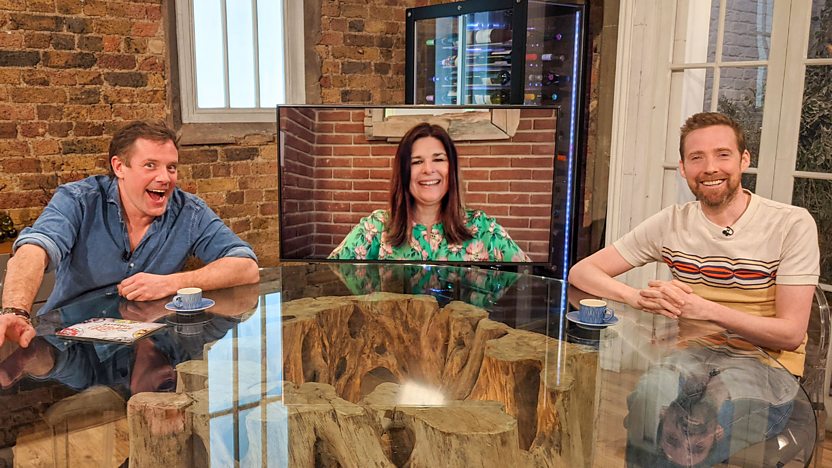 Saturday Kitchen
27/03/2021