Guinness and ginger float
This American-style ice cream float combines lashings of cream, Caribbean spices and Guinness - it's perfect for Christmas.

Ingredients
For the ginger ice cream
For the crème
For the ginger cake (for the crumble, below)
For the crumble
To serve
Method
For the ginger ice cream, bring the milk, cream and vanilla seeds to the boil in a saucepan. Whisk the egg yolks and sugar in a bowl until pale and fluffy.

When the cream mixture is just boiling, pour it over the egg yolk mixture, whisking continuously to combine.

Return the custard mixture to the saucepan and cook over a medium heat, stirring constantly, until it has thickened enough to coat the back of a spoon. Strain the custard into a jug and stir in the ground ginger. Set aside to cool. Once cool, chill the custard in the fridge.

Transfer the chilled custard to an ice-cream machine and churn according to the manufacturers' instructions until set. Freeze until needed.

For the crème, whisk together all of the crème ingredients in a large bowl until well combined. Chill for at least 30 minutes.

For the ginger cake, preheat the oven to 170C/150C Fan/Gas 3. Grease a 35x25cm Swiss roll tin with butter.

In a large bowl, mix together the dry ingredients until well combined. In a separate bowl, mix together the melted butter, syrup and sugar until well combined. In a third bowl, whisk together the egg and milk.

Mix the egg mixture, dry ingredients and syrup mixture together until well combined, then pour the cake mixture into the prepared tin. Bake in the oven for 8-10 minutes, or until a skewer inserted into the centre of the cake comes out clean. Roughly chop 100g/3½oz of the ginger cake into small cubes.

For the crumble, dust the ginger cake cubes in icing sugar and place them onto a baking tray. Bake in the oven for 2-3 minutes, or until the sugar has melted and caramelised and the cake is slightly toasted. Remove from the oven and set aside.

In a bowl, mix together the pear and confit ginger until well combined. Just before serving, mix the pear mixture with the toasted ginger cake.

To serve, sprinkle some of the crumble mixture into the bottom of a large glass bowl, or 4 individual glass bowls. Top with some of the ginger ice cream. Cover the ice cream with a layer of the crème mixture. Drizzle over some of the Guinness and ginger ale (you may not need to use all of the liquids). Serve immediately.
Recipe Tips
You can use good quality readymade ginger ice cream and leftover Christmas pudding or cake to make this an instant dessert.
This recipe is from...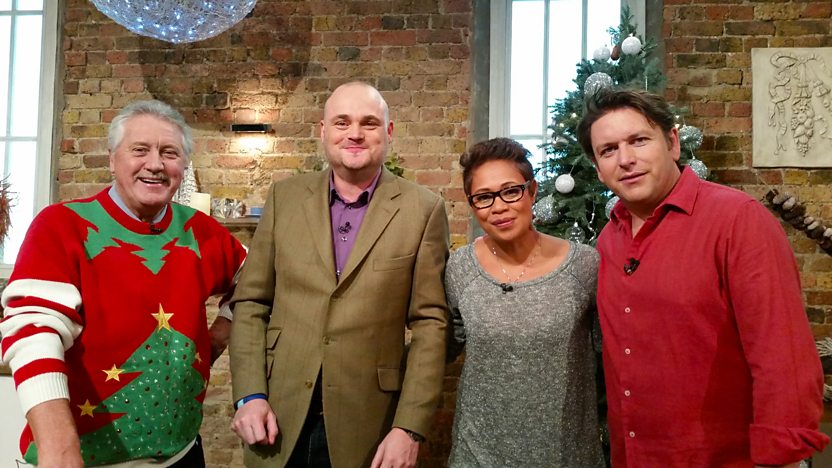 Christmas Kitchen
Episode 10