Gluten-free sticky toffee pudding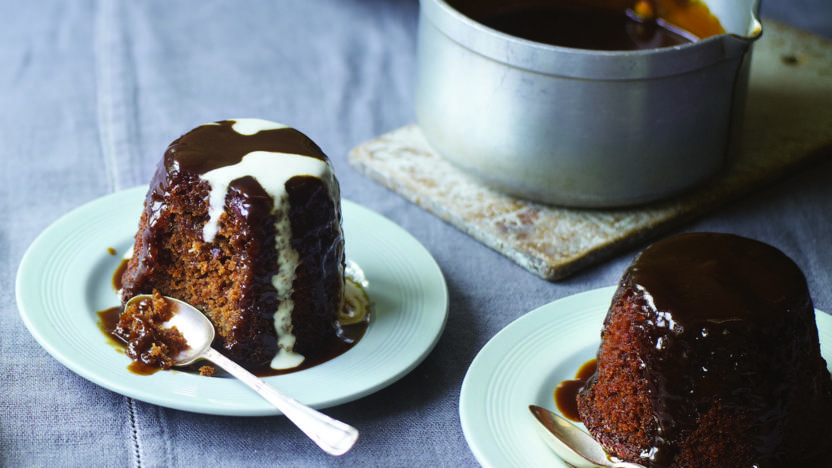 This gluten-free version of sticky toffee pudding is also dairy-free. Wickedly good!

Equipment and preparation: For this recipe you will need 6–8 dariole moulds, depending on the size
Ingredients
For the pudding
For the toffee sauce
100g/3½oz dairy-free butter (such as sunflower spread)
175g/6oz coconut palm sugar
1 tbsp blackstrap molasses or treacle
100ml/3½oz maple syrup
230ml/8oz soy cream, plus extra to serve
½ tsp vanilla extract
pinch of sea salt
Method
Preheat the oven to 180C/350F/Gas 4. Grease and flour the moulds, then line the bases with a disc of oiled parchment paper.

To make the pudding, soak the dates in the boiling water for five minutes, then blend in a food processor until smooth. Add the remaining ingredients and blend again until well combined.

Spoon the mixture into the prepared moulds (but not right to the top, as they rise quite a bit) and bake in the preheated oven for 20 minutes, or until they are risen and firm. (You can check they are cooked by inserting a skewer into the middle - if it comes out clean, the pudding is ready.)

Ten minutes before the puddings are ready, make the toffee sauce. Melt the butter, coconut palm sugar, blackstrap molasses and maple syrup in a saucepan over low heat, then simmer for a few minutes. Gradually stir in the soy cream, vanilla extract and salt and bring to the boil for 1–2 minutes, or until slightly thickened. Keep warm until ready to serve.

Leave the puddings to cool in their moulds for a few minutes, then turn out onto serving plates. Spoon the toffee sauce over and around with a little extra soy cream to top it off.