Gruyère and bacon soufflé
If you thought soufflé was decadent, this recipe rises to another level. Crispy bacon, reduced cream and melting cheese happily make a hearty base for puffed up mustardy soufflés.

Method
Preheat the oven to 200C/400F/Gas 6 (convection mode) and generously grease six ramekins of 7cm x 4cm/2¾in x 1½in.

Place the milk in a saucepan, add the thyme, bay leaf and nutmeg, and bring to a simmer.

Turn off the heat and leave to infuse for a few minutes.

Heat a frying pan until hot, add the olive oil and bacon and cook until crisp. Remove and place on a plate lined with kitchen paper.

Melt the butter in a saucepan and add the flour and mustard. Cook for a couple of minutes until a nutty aroma is released.

Strain the milk and add it to the saucepan containing the flour and mustard. Whisk continuously until thick, then beat in the egg yolks and season with salt and freshly ground black pepper. Allow to cool slightly.

Whisk the egg whites in a clean bowl until firm, adding a pinch of salt.

Add one-third of the egg white to the soufflé base mix and beat in. Stir in the chives and then carefully fold in the remaining egg whites. Spoon the mixture into the buttered ramekins and bake for 5-7 minutes, or until the tops begin to brown.

To serve, preheat the grill to high.

Warm the cream in a saucepan and season with salt and freshly ground black pepper. Increase the temperature and cook until the volume of liquid has reduced by one-third.

Add the crispy bacon and mix well, then add salt and pepper, to taste. Pour the cream into six serving bowls and turn the soufflés out onto the cream.

Cover the soufflés with the grated gruyère cheese and place under the grill. Once golden-brown and bubbling, remove from the grill and serve immediately.
This recipe is from...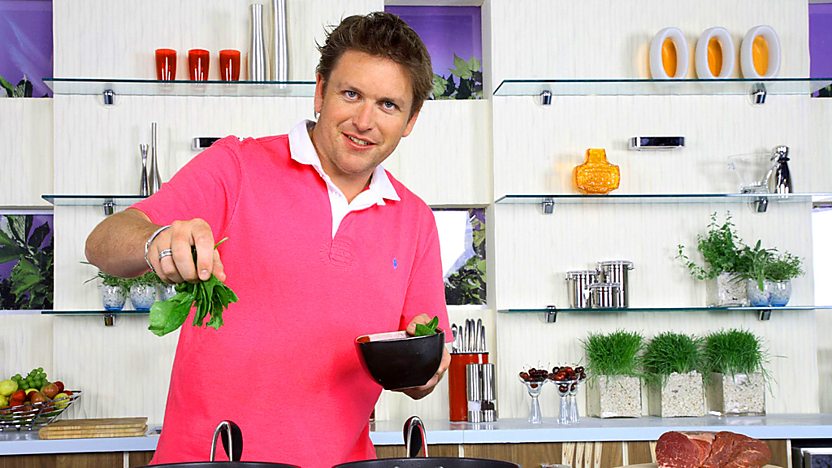 2007-16
223. 06/03/2016
Recipes from this episode