Grilled aubergines with miso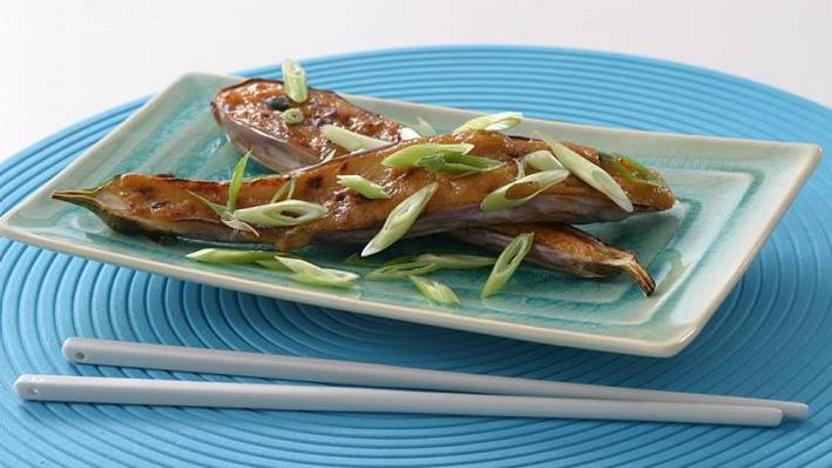 This aubergine recipe is healthy and low fat, yet absolutely delicious! Serve with rice for a filling midweek meal.
Ingredients
For the miso topping
Method
Prepare the aubergines. Slice the aubergines in half lengthways, keeping the stem end intact.

Score the cut side of the aubergines diagonally, forming a diamond pattern in the flesh.

Heat about 0.5cm/0.25in oil in a heavy-bottomed frying pan. When it's hot, add the aubergine halves, cut side down. Fry the halves until lightly browned, about three minutes. Turn over and lightly fry the other side for a further minute or two. The aubergines should be fairly soft.

Carefully remove the aubergines from the pan with a fish slice and drain on kitchen paper.

Preheat the grill to medium.

Prepare the miso topping. Place the miso into a bowl and stir in the sugar. Grate the ginger into the bowl, then stir in the shoyu or soy sauce and mirin.

Place the aubergines onto a baking sheet, cut-side up. Spoon the miso topping over the aubergine halves, then place them under the grill. Grill until the miso topping is just beginning to brown and bubble slightly, but don't allow it to burn.

Finely slice the spring onions.

Place the grilled aubergines onto a serving plate, scatter the finely sliced spring onions over the top and serve.
Recipe Tips
This aubergine dish can be made on the barbecue, just keep an eye on it as the sweet mirin can burn.