Grilled chicken shatkora with pickle and chapatis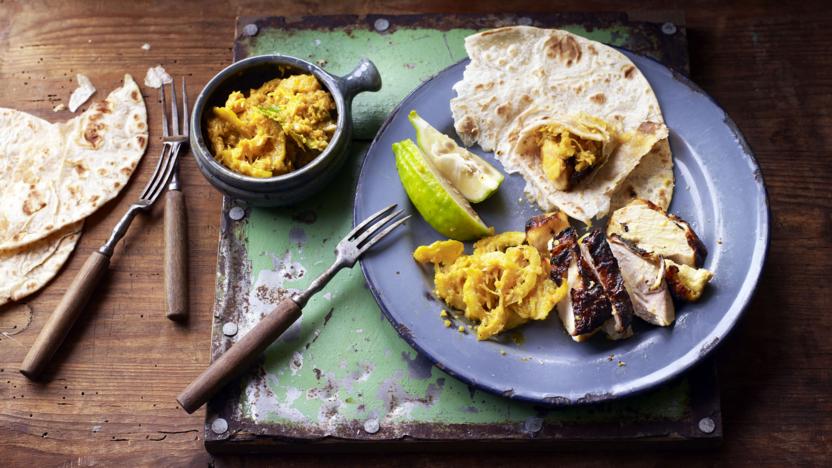 Shatkora is a citrus fruit that is commonly cooked with in Bangladesh. You can find it in large Asian grocers. (If you can't find them, try lemons instead.)
Ingredients
For the pickle
For the marinade
To serve
Method
For the pickle, heat the oil. Mix the garlic, ginger and onion together to form a paste. Add the paste to the pan. Add enough water to loosen a little and cook for a few minutes. Add the bay leaves and cardamom.

Add the shatkora to the pan. Add a cinnamon stick, then the turmeric, chilli powder, cumin and curry powder. Cook on a low heat for 15 minutes. This is an instant pickle, so won't keep for longer than three days in the fridge.

For the marinade, mix together the ingredients and rub the paste into the chicken, working it in thoroughly to cover all the flesh and skin. Cover and marinate in the fridge for at leat 4 hours, or overnight.

To cook the chicken, preheat the grill to high. Grill the chicken for 10–12 minutes on each side, or until cooked through. If needed, squeeze more shatkora juice onto the chicken during cooking.

Serve the chicken with the shatkora pickle, wedges and chapatis.
This recipe is from...
Recipes from this episode