Grilled baby aubergines with Chinese salsa verde
An elegant, healthy dish for sharing.

Ingredients
For the aubergines
5 baby purple aubergines, sliced in half lengthways
1 tsp Chinese five spice powder
1 pinch sea salt flakes
2 tbsp groundnut oil
For the Chinese salsa verde
To garnish
1 bunch enoki mushrooms, washed, stalks removed and small bunches separated
1 small handful coriander, finely chopped
Method
Place the aubergines into a large bowl. Sprinkle over the Chinese five spice powder and salt and drizzle over the groundnut oil. Toss the aubergines making sure they are coated in the oil.

Heat a griddle pan over medium-high heat, place the aubergine halves onto the griddle making sure the grill lines run across the width of the aubergines (so you get mini grill lines running across the white part of the aubergine). Turn the heat to medium and leave them cooking without moving them for 2 minutes. Then turn them over and cook on the other side. Turn them occasionally and cook for 5-6 minutes until tender.

Meanwhile, for the Chinese salsa verde, put all the ingredients in a jug. Mix well to combine.

When the aubergines are cooked, switch off the heat and take them off the grill, place on a serving plate in a circular pattern. Spoon a tablespoon of the salsa verde over each aubergine half. Decant the rest of the salsa verde into a small bowl so guests can help themselves to more. Then garnish with small bunches of enoki mushrooms placed in-between the aubergine pieces. Sprinkle over some finely chopped coriander. Serve immediately.
Related Recipes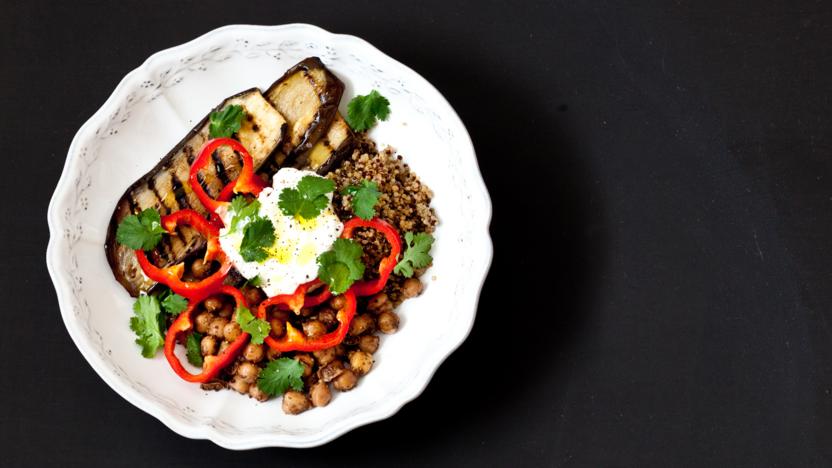 See more aubergine recipes (227)