Griddled steak with spicy potato wedges, garlic cream cabbage and blue cheese sauce
Ingredients
For the griddled steak
For the spicy potato wedges
For the garlic cream cabbage
For the blue cheese sauce
Method
Preheat the oven to 200C/400F/Gas 6.

For the griddled steak, rub the steak with olive oil, salt and freshly ground black pepper and heat a griddle pan until smoking hot. Place the steak into the pan and griddle for 2-3 minutes on each side, or until cooked to your liking. Set aside to rest for five minutes and then slice.

For the spicy potato wedges, place the potato wedges, chilli flakes, salt, freshly ground black pepper, olive oil and butter into an ovenproof pan and place over a medium heat, shaking the pan from time to time, until beginning to turn golden-brown. Place in the oven and roast for 15 minutes, or until golden-brown all over and cooked all the way through.

For the garlic cream cabbage, melt the butter in a frying pan, add the onion and fry until softened. Add the cabbage, salt and freshly ground black pepper and fry for 2-3 minutes. Add the garlic and fry for one minute. Add the cream and thyme and simmer for 3-4 minutes.

For the blue cheese sauce, place the Stilton, cream and freshly ground black pepper into a small saucepan and heat gently, stirring, until melted and smooth.

To serve, pile the cabbage onto a serving plate. Place the steak slices on top and the potato wedges on the side. Pour over the blue cheese sauce.
This recipe is from...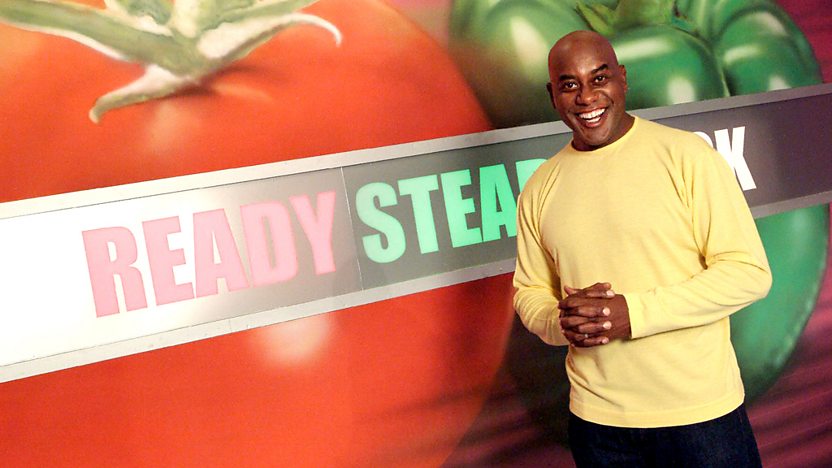 Ready Steady Cook
Episode 24
Recipes from this episode