Green tea panna cotta with cardamom tuile biscuits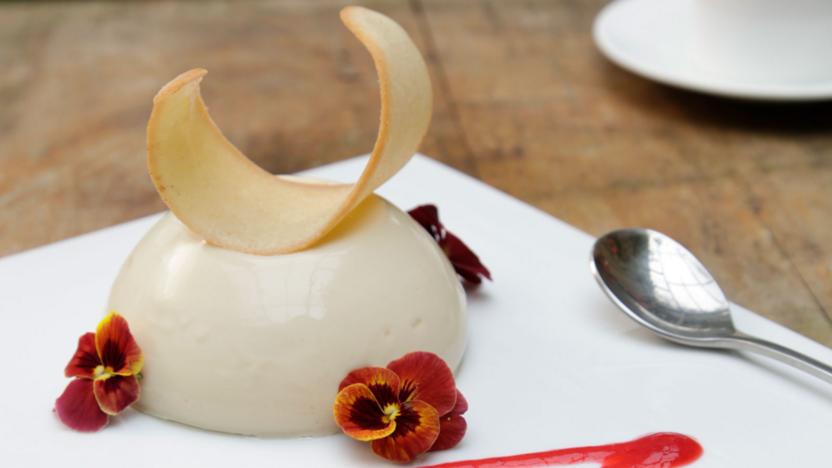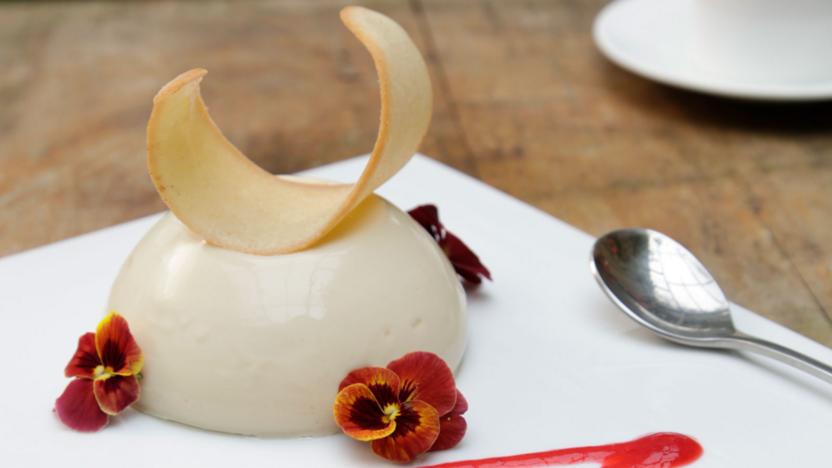 This make-ahead dessert is a doddle to prepare but a real head-turner when it arrives at the table.
Ingredients
For the green tea panna cotta
For the tuile biscuits
Method
For the green-tea panna cotta, lightly grease six 150ml/5fl oz ramekin dishes or dariole moulds with sunflower oil.

Soak the leaf gelatine in a bowl of cold water for 10 minutes.

Pour the milk and cream into a saucepan and add the sugar, cinnamon stick, teabags and cardamom seeds. Heat over a very low heat, gradually bringing the milk to the boil and stirring gently until all of the sugar has dissolved. Remove the pan from the heat.

Squeeze any excess water from the softened gelatine leaves and stir into the warm milk until dissolved. Strain the mixture through a sieve lined with muslin into a heatproof jug, then pour the mixture into the prepared dariole moulds or ramekins. Set aside to cool completely, then chill in the fridge for at least four hours, but preferably overnight, until set.

For the tuile biscuits, beat the butter and icing sugar together in a mixing bowl until pale, fluffy and smooth. Carefully fold in the flour, followed by the whisked eggs whites and vanilla extract. Cover the bowl with cling film and chill in the fridge for one hour.

While the tuile biscuit mixture is resting, line a baking tray with silicone paper. Take a sturdy piece of plastic, such as the clean lid of an ice cream carton and cut four 5cm/2in holes from it, leaving a 2.5cm/1in space between each hole and discarding the circles you cut out (the ice cream lid will be your template).

When the tuile biscuit mixture has rested, preheat the oven to 180C/350F/Gas 4.

Lay the template over the silicone paper. Using a palette knife, spread a little of the mixture into the holes to create four thin, even, flat discs. Remove the template carefully and sprinkle the biscuits with cardamom seeds.

Bake the tuile biscuits in the oven for 5-10 minutes, or until crisp and golden-brown at the edges. Remove from the oven and, while still warm, wrap the exposed face of each biscuit over a rolling pin (or other curved surface, such as a mug), carefully peel away the silicone paper, and set aside to cool.

Repeat the cooking and shaping process with the remaining tuile biscuit mixture. You should end up with elegantly curled biscuits.

When the panna cotta is ready to serve, dip the moulds quickly into boiling water and turn the panna cotta out onto serving plates. Serve with the tuile biscuits.
This recipe is from...
Recipes from this episode