Green spatchcocked chicken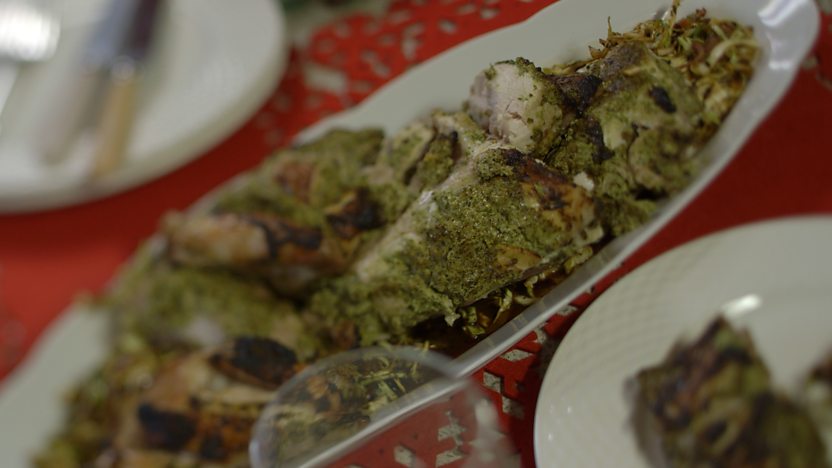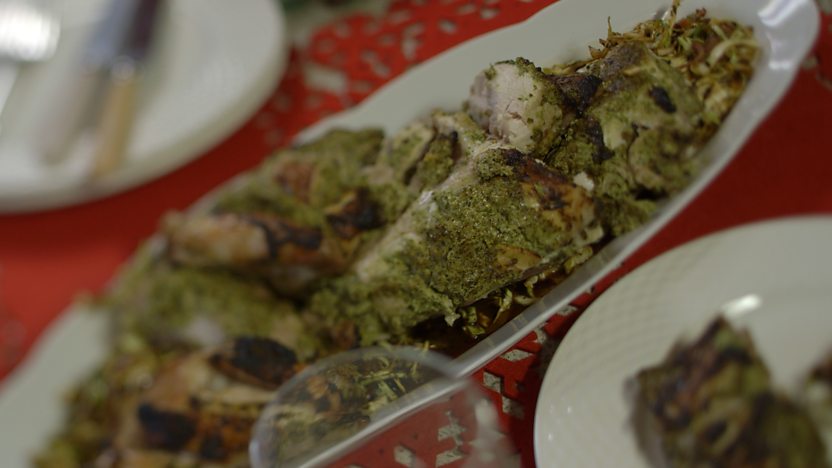 This easy, zingy chicken recipe tastes delicious roasted in the oven or over the coals of a barbecue.

For this recipe you will need a food processor and a pestle and mortar.
Method
Preheat the oven to its highest setting, or at least 240C/220C Fan/Gas 8.

Blend two-thirds of the coriander, mint and basil leaves in a food processor. Add 5 of the garlic cloves, all of the ginger, and 3 of the chillies and blend to a fine paste. Add the yoghurt and blend again. Add the zest and juice of 3 of the limes and blend until smooth. Set this marinade aside.

Season the spatchcocked chicken really well on both sides with salt and freshly ground black pepper. Lay it in a roasting tray, skin side up. Rub the marinade all over the chicken using your hands. If you have time, cover and place in the fridge to marinate for 1 hour; otherwise cook straight away.

Roast the chicken in the oven for 40-45 minutes, or until cooked through. (The chicken is cooked through when the juices run clear when the chicken is pierced in the thickest part of the thigh with a sharp knife and no trace of pink remains.)

Meanwhile, grind the remaining coriander, mint and basil to a paste using a pestle and mortar. Season with a large pinch of salt. Add the remaining chilli and garlic and grind again to a smooth paste. Stir in the soy and fish sauces, sesame oil and honey until well combined. Add the zest and juice of the remaining 2 limes and grind once more.

Mix the cabbage and onion in a bowl, drizzle over the dressing and toss to coat. Tip the salad onto a serving platter. Carve the cooked chicken into chunks and arrange them on top of the salad to serve.
Recipe Tips
Ask your butcher to spatchcock the chicken for you if you prefer not to attempt it.
This recipe is from...
Recipes from this episode