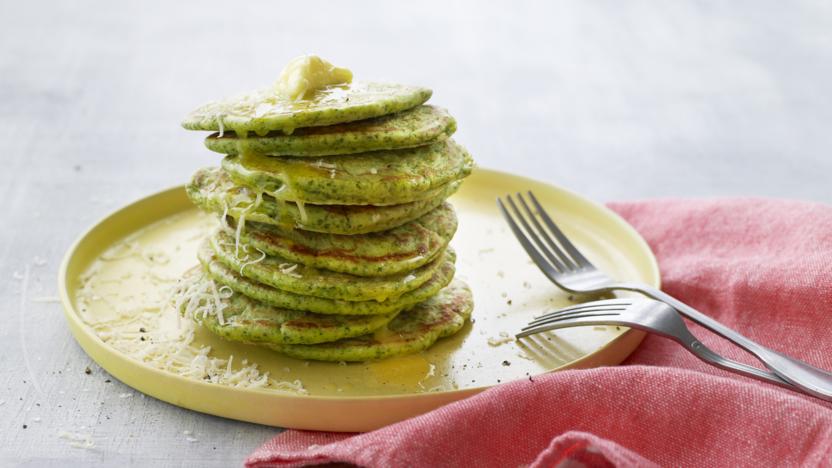 Add some colour to your breakfast pancakes – using a low heat to fry these pancakes ensures that the green colour is preserved.

Each pancake provides 124 kcal, 4.5g protein, 17g carbohydrates (of which 1g sugars), 4g fat (of which 1g saturates), 1g fibre and 0.6g salt.
Method
Put the spinach, flour, baking powder, eggs and milk in a food processor. Add the salt and lots of ground black pepper and blend until as smooth as possible.

Brush a little of the oil over the base of a large non-stick frying pan and set over a low heat. (Using a low heat will help preserve the green colour of the pancakes.)

Drop three small ladles full of the pancake mixture into the frying pan, spacing well apart. Each one should spread slowly to be around 8cm/3¼in in diameter. Cook for 1½–2 minutes, or until the pancakes rise, bubbles appear and their surface appears almost dry. Flip over with a palette knife and cook on the other side for a further minute.

Transfer the three cooked pancakes to a warmed plate, cover with foil and a dry tea towel to help retain the heat. Cook the remaining nine pancakes in exactly the same way, greasing the pan with a little oil between each batch. If the pancake mixture begins to get too thick to pour, simply whisk in a little extra milk.

Serve the pancakes in piles topped with butter and grated cheese.