Gravlax with dill and mustard mayonnaise and lettuce
Salmon marinated in dill and sugar, finely sliced and served with a green salad loaded with fresh herbs. Use the freshest salmon you can get hold of for best results.

Ingredients
For the dill and mustard mayonnaise
For the gravlax
For the Little Gem lettuce
To serve
Method
For the dill and mustard mayonnaise, put the mustard seeds in a bowl. Heat the vinegar and honey in a non-reactive saucepan until the honey has dissolved. Pour the vinegar and honey mixture over the mustard seeds and mix thoroughly. Add the ale and stir until well combined.

Cover the bowl with cling film and set aside for at least four hours, preferably overnight.

Once cooled, blend the mustard base mixture in a food processor until smooth (this will take a few minutes as all of the mustard seeds need to break down). Spoon the mixture into a bowl and set aside.

To make a mayonnaise, blend the egg yolks, white wine vinegar and Dijon mustard together in a food processor. With the motor running, slowly add the oil in a thin stream until the mixture comes together as a thick and creamy mayonnaise. (You may not need to use all of the oil.)

Mix the mayonnaise, mustard base and dill together in a bowl until well combined. Cover with cling film and chill in the fridge until needed.

For the gravlax, mix the sugar, salt and dill together in a bowl.

Sprinkle half of this marinade mixture into the bottom of a shallow roasting tray, then place the salmon on top and sprinkle over the remaining marinade mixture.

Cover the tray with cling film and place the salmon in the fridge to marinade for one hour. Rinse the marinade off under cold running water and pat dry with kitchen paper.

For the Little Gem lettuce, place the lettuce in a large bowl. Place the rest of the ingredients in a blender and blend until smooth and emulsified.

Just before serving, toss the lettuce in the dressing.

To serve, cut the salmon in thin slices on an angle and place on a serving platter. Serve with the salad, dill and mustard mayonnaise and buttered wholemeal sliced bread.
This recipe is from...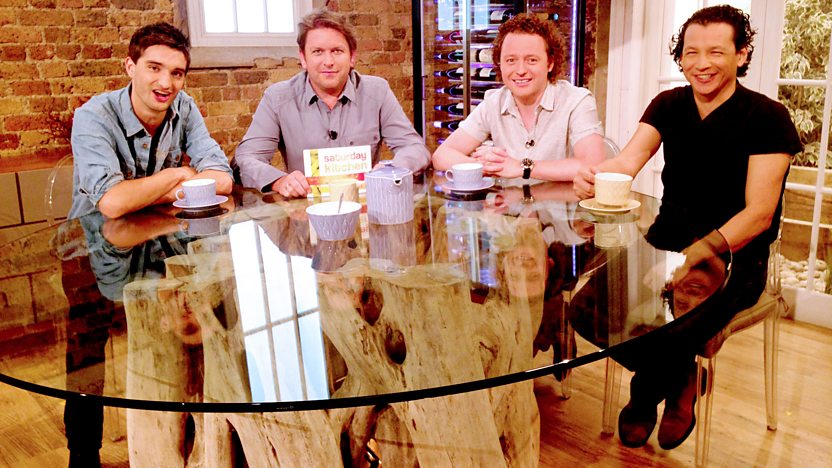 Saturday Kitchen
07/06/2014
Recipes from this episode