Grapefruit chicken stew with couscous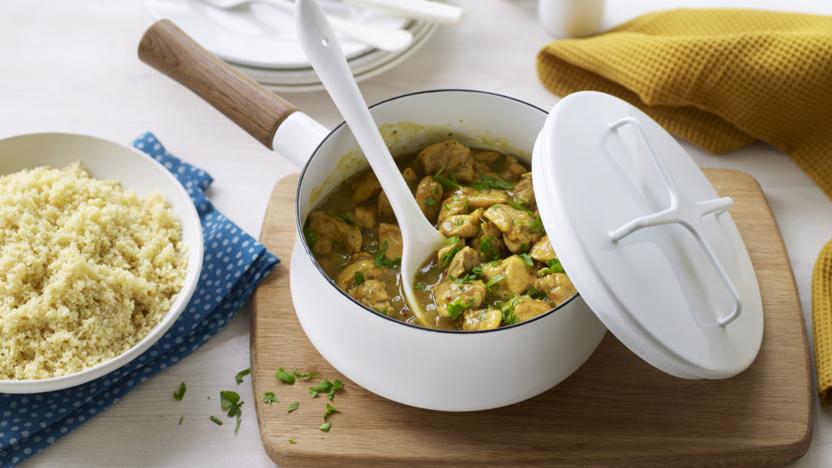 Citrus works just as well with savoury dishes as it does with sweet. Grapefruit's combination of sweet and bitter works really nicely in Nadiya's simple chicken stew.


Ingredients
For the stew
For the couscous
Method
Put the chicken into a bowl, add half a teaspoon of turmeric and mix until all the chicken is covered. Place a large saucepan over a medium to high heat and add the oil. Fry the chicken in batches, until cooked and brown around the edges. Put back into the bowl and set aside.

Add a little extra oil, about a tablespoon, to the pan. Add the garlic, onion and salt and cook until the onions are soft – this can take 10–15 minutes.

Now add the cumin, chilli flakes and another ½ teaspoon of turmeric and cook for a few minutes.

Add the grapefruit juice, about 150ml/5fl oz, and the zest, along with the browned chicken. Mix through, then add the measured hot water.

Stir in the cornflour and water mixture, then cover the pan and cook for 30 minutes.

Put the couscous into a bowl, stir in the salt and top with the butter on top. Pour in the boiling water until it reaches about 1cm/½in above the couscous. Cover, then set aside so that the couscous can soak up the water.

When the chicken stew is cooked, take it off the heat and add the parsley. Serve with the couscous.
This recipe is from...
Recipes from this episode