Gold millionaire's shortbread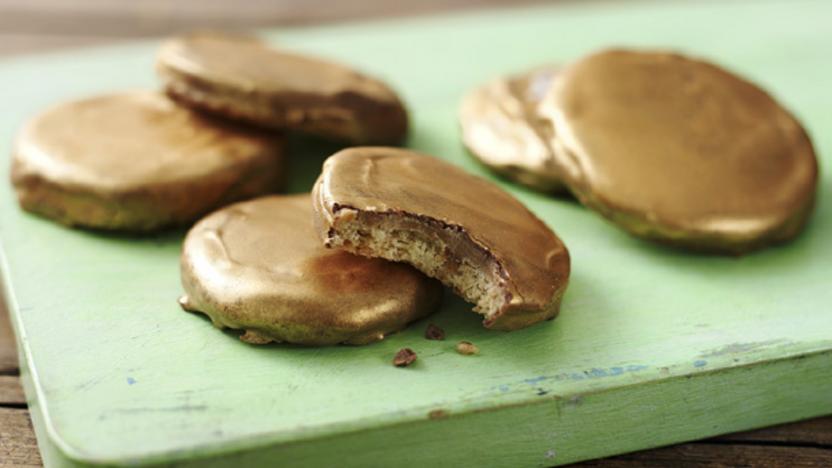 Everyone's a winner with these easy millionaire shortbread gold medal biscuits. Butter fudge makes a great cheat's caramel.
Ingredients
For the base:
For the topping
Method
Preheat the oven to 160C/310F/Gas 2 and lightly grease a baking sheet.

Place all the ingredients for the base into a food processor and blend together. Lightly flour a smooth surface, then remove the dough and knead lightly until smooth. Leave to rest in the fridge for 30 minutes.

On a lightly-floured surface roll out the dough to a thickness of about 5mm/¼in. Cut out 12 x 6cm/2in rounds and place on the baking sheet. Prick twice with a fork. If you want to string your gold medals, use a drinking straw to make a hole in each biscuit.

Bake for approximately 30-40 minutes until golden-brown and firm. Set aside to cool.

Once the biscuits have cooled. Soften two pieces of fudge (this can be done by massaging the fudge by hand or warming it in 10 second bursts in a microwave), knead into a ball and roll or pat into a circle the same size as the biscuits. Press onto the surface of the shortbread and leave to set on a tray for 30 minutes. Repeat for the remaining biscuits.

Break the chocolate into small pieces and place in a bowl over a pan of gently simmering water (do not let the bowl touch the water). Melt the chocolate, stirring infrequently, until smooth. Leave to cool slightly. Pour the chocolate over the biscuits until they are completely covered. Set aside until the chocolate has set, then brush the chocolate with the gold luster.
Recipe Tips
If you want to make these into medals, make a little hole in each biscuit before baking and thread with ribbon.