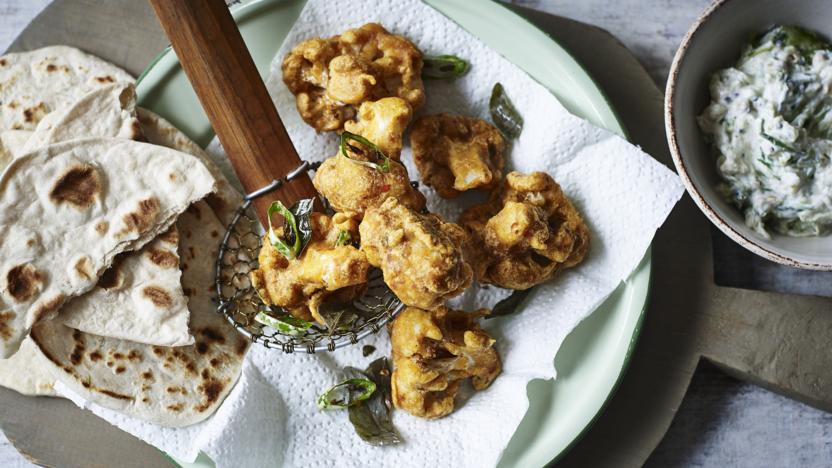 Matt Tebbutt takes inspiration from Goan street food with a spiced coating for deep-fried cauliflower florets, served with cucumber, cashew and yoghurt dip and flatbreads.

Ingredients
For the deep-fried cauliflower
For the salad
For the flatbreads
Method
For the deep-fried cauliflower, fill a deep-fat fryer or a large, deep, heavy-bottomed pan two-thirds full with the oil. Heat to 180C (a cube of bread should turn brown in one minute when dropped in.) CAUTION: Hot oil can be dangerous. Do not leave unattended.

Heat a large saucepan of salted boiling water and blanch the cauliflower for 2–3 minutes. Drain well and set aside.

Place the flours into a large bowl and add the chilli paste, chopped curry leaves and garam masala. Mix then add enough cold water to make a smooth batter consistency.

Dip the blanched cauliflower into the batter and deep-fry for 2 minutes or until golden-brown. Set aside to drain on kitchen roll and keep warm until ready to serve. (Keep the deep-fat fryer warm to fry the garnish at the last minute.)

For the salad, in a dry frying pan over a medium heat, toast the cumin, mustard seeds, green chilli and nuts for 2–3 minutes, taking care not to burn them.

Put the grated cucumber into a clean tea towel and squeeze out the water. Place the cucumber into a bowl with the yoghurt and mix in the roasted spices and nuts.

For the flatbreads, mix the flour and salt in a large bowl. Add the oil and mix again. Gradually add enough water to form a dough then knead until smooth. Divide into 8 balls. On a floured surface, roll them out into round flatbreads.

In a dry frying pan over a medium heat, cook each flatbread for 2–3 minutes on both sides or until cooked through.

Just before serving, deep-fry the curry leaves and sliced green chillies.

To serve, place the fried cauliflower onto a serving plate and top with the salad. Serve the flatbreads on the side.
This recipe is from...
Recipes from this episode