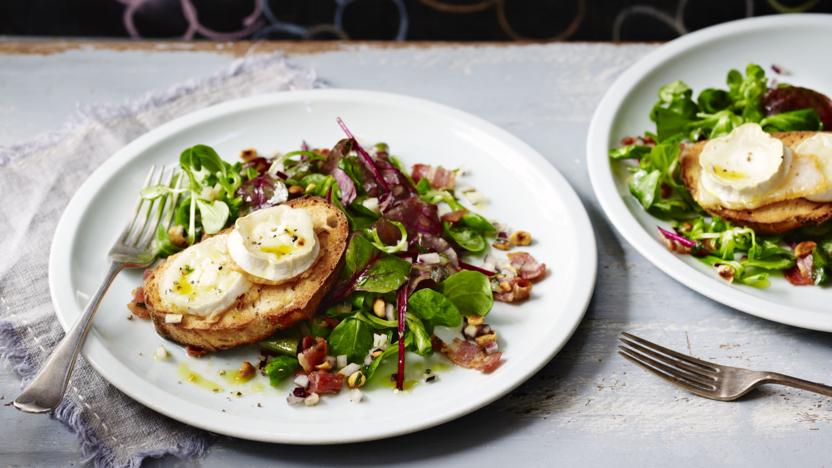 A simple and adaptable recipe to make salad a satisfying main meal. The key is getting the right balance of flavours and texture. Choose a mixture of salad leaves and swap the cheese for the protein of your choice.

Each serving contains 637kcal, 19g protein, 23g carbohydrate (of which 5.5g sugars), 51g fat (of which 13g saturates), 4g fibre and 1.8g salt.

Method
In a salad bowl, mix the red onion, tarragon, vinegar and olive oil. Season with salt and pepper and set aside.

Heat a little oil in a frying pan, add the bacon and fry until crisp. Drain on kitchen paper.

Heat the grill to high. Toast the bread on both sides and grill the goats' cheese until golden-brown and bubbling.

Add the hazelnuts, bacon and salad leaves to the bowl.

Place the goats' cheese on the toast and toss the salad making sure it is well coated with dressing.

Arrange on a plate and serve.
Recipe Tips
If you don't fancy hazelnuts, you could always get a bit of extra crunch from a few croûtons (although the crust on the sourdough toast should be great anyway) or substitute them for pine nuts. If you're not a fan of goats' cheese this salad would also make a great accompaniment to roast chicken.