Grilled radicchio and peach salad with goats' cheese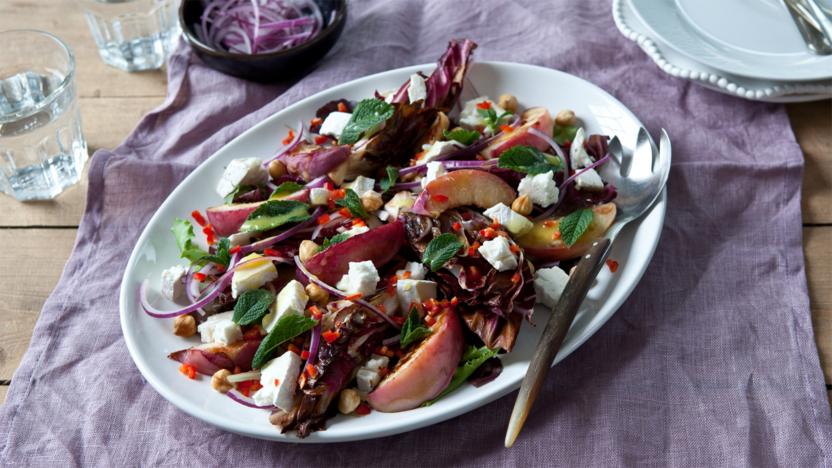 Ingredients
For the salad
½ red onion, thinly sliced
4 heads radicchio, trimmed and cut into wedges, keeping the root on so it holds together
2 peaches, de-stoned and cut into thin wedges
handful green salad leaves, such as watercress or rocket
1 tbsp toasted hazelnuts
100g/3½oz fresh goats' cheese, crumbled into pieces
1 small red chilli, finely chopped
handful fresh mint leaves
For the dressing
Method
To make the salad, place the red onion in a bowl of iced, salted water and leave for a couple of minutes to mellow the flavour. Drain and set aside.

Preheat a barbecue or grill to high and cook the radicchio and peach slices for 2–3 minutes on each side until they are slightly wilted and charred.

To make the dressing, whisk all the ingredients together in a small bowl and set aside.

To assemble, scatter the leaves, cooked radicchio, peaches, onion, hazelnuts and goats' cheese over a large platter. Garnish with the chopped chilli and fresh mint leaves. Drizzle with the dressing just before serving. Serve with other barbecue dishes.
This recipe is from...
Recipes from this episode