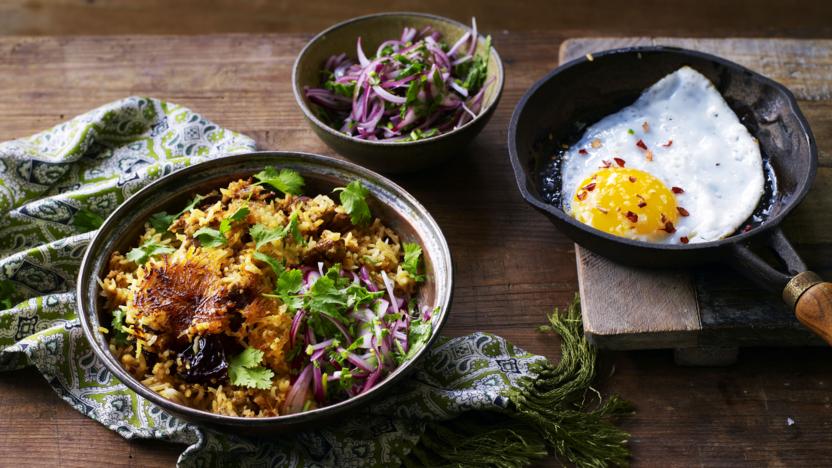 A biryani is perfect for a celebration. This one is topped with a fried duck egg and decorated with coriander. If you can't find goat, use cubed leg of lamb instead.
Ingredients
For the biryani
For the raw onion salad
For the duck egg
Method
For the biryani, wash and soak the rice for at least 20–30 minutes, but preferably 2 hours.

Heat a large pan over a high heat. Add the clarified butter and, once it is sizzling, add the cinnamon sticks, peppercorns and bay leaves. Cook for a minute without burning them. Add the onions, garlic and ginger and cook for 3–4 minutes. The mixture should be dry and brown.

Add the goat and cook for 10 minutes, until browned. If the mixture starts to stick, add a few splashes of water.

Add the ground spices and 2 teaspoons salt and cook for 5 minutes.

Add the stock and cook over a medium heat for 20 minutes, or until the meat is tender and the curry dry. If it isn't dry within 20 minutes, keep cooking until all the moisture has evaporated, watching it closely.

Remove from the heat, take off the lid and leave to cool for 30 minutes. Stir in the yoghurt and prunes.

Meanwhile, put the rice in a large pan with a 1 litre/1¾ pint water. Cook for 10 minutes, then strain through a colander and drain under cold water.

Grease a large, lidded deep dish with clarified butter. Layer the dish with rice, curry, then green chillies, then repeat and end with an extra layer of rice on top. Place a damp tea towel over the biryani and put the lid on. Cook over a medium heat for 25 minutes, until you get crunchy rice at the bottom of the pan. Remove the lid.

Meanwhile for the onion salad, put the onion and coriander in a bowl. Add the sugar and lemon juice and scrunch together using your hands, being sure to really squeeze and macerate the onions; they should look like they have reduced in size and 'cooked' in the lemon juice slightly.

For the eggs, heat the oil in a large pan and the cook eggs until they are lacey-edged. Sprinkle with the chilli flakes and a pinch of salt.

Stir the biryani. Serve topped with the fried eggs and garnished with the coriander, with the onion salad on the side.