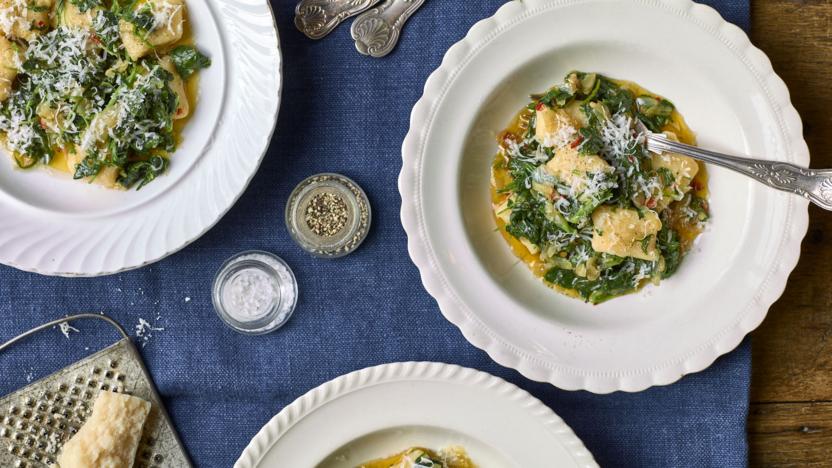 Gennaro makes his gnocchi with boiled potatoes - much faster than baking them - and serves them in an easy rocket, basil and chilli sauce.
Ingredients
For the gnocchi
700g/1lb 9oz Desiree potatoes, roughly cut to pieces all the same size and unpeeled
salt and freshly ground black pepper
2 free-range eggs, yolks only
150g/5½oz plain flour
rice flour, for dusting
For the sauce
freshly grated parmesan (or a similar vegetarian hard cheese), to serve
Method
For the gnocchi, place the potatoes in a saucepan with lots of salted cold water. Bring to the boil and cook until the potatoes are tender, but not falling apart (about 15–20 minutes depending on the size of your potatoes).

Drain and allow to cool a little. When cool enough to handle, remove the skins. While the potatoes are still warm, mash them until smooth or pass through a ricer, then set aside to cool completely.

Season the cooled potatoes with salt and pepper, stir in the egg yolks and add the flour. Bring the mixture together to form a dough.

Sprinkle some rice flour on a clean work surface and roll out the dough into long sausage shapes. With a sharp knife cut the roll into dumpling shapes of about 2cm/1in. Set aside.

For the sauce, blanch the rocket and watercress for a minute in boiling salted water. Remove and refresh in cold water. Drain well.

In a large frying pan, heat the olive oil. Add the onion, garlic and chilli and fry until the onion is soft and translucent. Stir in the rocket, watercress and basil and stir-fry for a couple of minutes to heat through. Season, to taste.

Bring a large pan of water to the boil and drop in the gnocchi. Simmer until they rise back to the top then lift them out with a slotted spoon. Drain well and mix into the sauce, taking care not to break up the gnocchi.

Serve immediately with some freshly grated parmesan.
This recipe is from...
Recipes from this episode