Gnocchi with onion purée, pickled turnips and mushrooms
Take simple gnocchi to another level by serving it with onion purée, pickled turnips and roasted Portobello mushrooms.



Ingredients
For the onion purée
For the pickled turnips
For the Portobello mushrooms
For the gnocchi
Method
To make the onion purée, heat the oil in a frying pan and gently fry the onions, garlic, thyme and bay for around 30–40 minutes or until very soft. Season with salt, remove the bay and thyme and blitz in a food processor or blender, adding a small amount of water if needed to loosen. Strain through a sieve and keep warm.

To make the pickled turnips, season the turnip with salt and leave for 30 minutes to soften. Mix the remaining ingredients together in a bowl with 6 tablespoons water and add the turnip slices. Leave to pickle.

To make the Portobello mushrooms, preheat the oven to 220C/200C Fan/Gas 7. Place all the ingredients in a roasting tin, stir to combine, cover with foil and roast for 15 minutes until soft.

To make the gnocchi, pass the baked potato flesh through a potato ricer or sieve while still warm. Mix the potatoes in a bowl with the egg yolks and enough flour to form a dough. Divide the dough in half and roll each half into a long sausage shape. Cut into 2cm/1in pieces. Drop the pieces into a saucepan of boiling, salted water and cook until they float to the surface. Remove the gnocchi with a slotted spoon and drain on kitchen paper.

Heat the oil in a frying pan and fry the gnocchi until crisp.

To serve, spoon the onion purée onto warmed plates, scatter over the gnocchi and top with the portobello mushrooms and pickled turnips. Garnish with the mushroom powder and chervil. Serve immediately.
This recipe is from...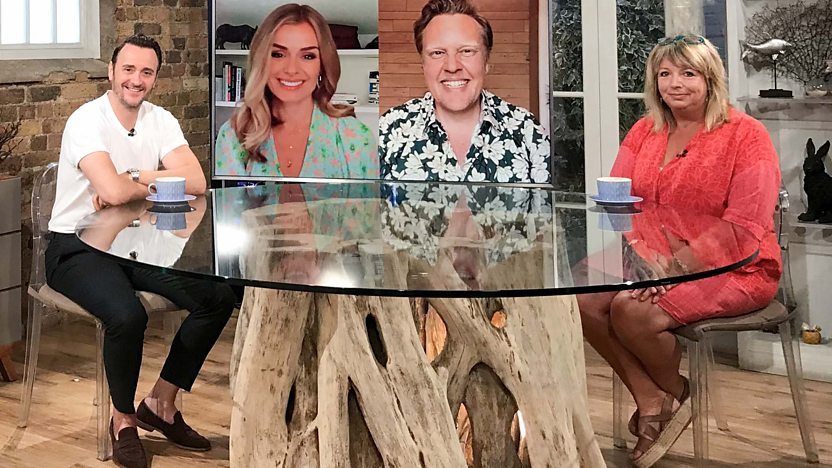 Saturday Kitchen
04/07/2020