Gnocchi with crispy bacon and spinach pesto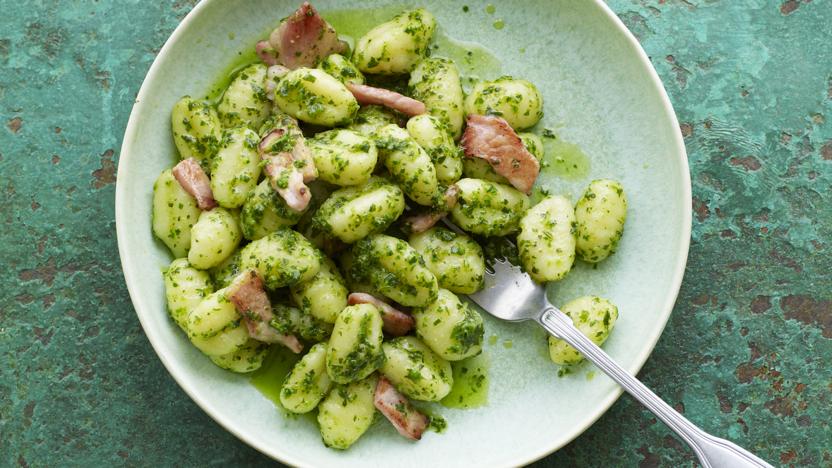 Gnocchi makes an easy-peasy 10-minute dinner. It's so simple to give homemade pesto a healthy boost using fresh spinach.

For this recipe you will need a mini food processor or a blender. Each serving provides 631 kcal, 17g protein, 74g carbohydrates (of which 1g sugars), 28g fat (of which 10.5g saturates), 6g fibre and 3.3g salt.
Method
To make the pesto, put the basil, spinach, Parmesan, salt and half the olive oil in a blender or mini food processor and blend. Keep adding oil, until your pesto is smooth. Season the pesto with a squeeze of lemon juice, and more salt, if needed.

Put the bacon in a small, cold frying pan and set it over a medium–high heat. Cook for 4–5 minutes, or until the bacon is crispy. Remove from the pan with a slotted spoon and drain on kitchen paper.

Cook the gnocchi in a large pan of boiling water according to the packet instructions. They are done when the gnocchi float to the top. Drain and return to the pan.

Stir in the pesto and bacon and serve.
Recipe Tips
Your basil-to-spinach ratios don't need to be exact, you can use up whatever leftover leaves you have at the end of the week.