Gluten-free fish and chips with minty peas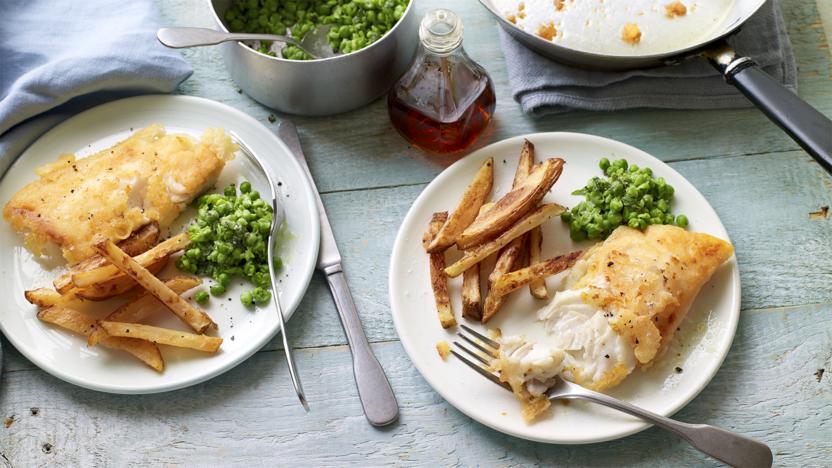 This gluten-free batter is made with sparkling water, tempura style, and is a crispy delight. Pan-frying instead of deep-frying reduces the calorie count too.

Each serving provides 568 kcal, 41g protein, 63g carbohydrates (of which 3.5g sugars), 15g fat (of which 3g saturates), 7g fibre and 0.6g salt.

Method
Preheat the oven to 220C/200C Fan/Gas 7. Line a large baking tray with greaseproof paper.

Cut the potatoes into 1cm/½in thick slices, then into 1cm/½in wide sticks.

Place in a saucepan and pour on enough cold water to just cover. Bring to the boil and simmer for 5 minutes until just tender but still firm. (This means the finished chips will be cooked through and slightly fluffy in the middle, but crispy on the outside.)

Drain carefully and tip out onto kitchen roll or a tea towel and pat dry.

Pour 4 teaspoons of the oil onto a large roasting tray, season with salt and pepper then add the potatoes and toss gently until they are fully coated. Roast for 15-20 minutes until golden-brown, crisp and cooked through.

While the chips cook, prepare the fish. Tip the flour into a bowl and season with salt and pepper. Add the water gradually, stirring all the time – you want a thick batter, about the consistency of double cream. Once it comes together, don't keep mixing it – you want it to be lovely and light.

Dip the fish into the batter, coating both sides, making sure that the fish is totally coated.

Heat a large frying pan until hot, add the remaining rapeseed oil and when it is very hot, add the fish, laying it down away from you so the oil doesn't spray up at you. Cook on one side until the batter has just puffed up and turned light golden-brown then flip over and cook on the other side. You will need to cook for 2-3 minutes on each side then lift the fish out onto parchment paper to drain – not kitchen roll as it will stick!

Bring a small pan of water to the boil, add the peas and simmer for 2-3 minutes until hot through. Drain and return to the saucepan with the chopped mint, then, using a potato masher, mash the peas gently a little until they burst.

Stir in the crème fraîche and season with salt and pepper.

Drain both the chips and fish onto kitchen paper to remove any excess oil then serve straightway with the minted peas alongside.
This recipe is from...
Recipes from this episode