Gluten-free blackberry and ginger cheesecake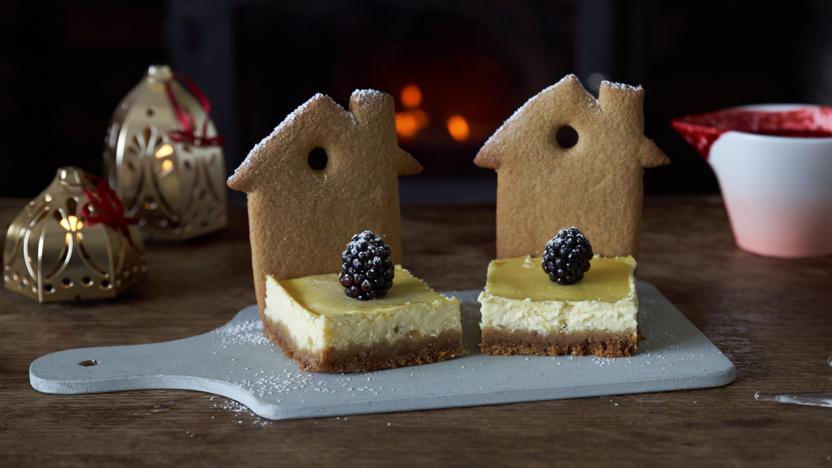 To make these gluten-free cheesecakes Christmassy, Howard made cute gingerbread houses with a delicious cheesecake garden.
Ingredients
For the cheesecake bases
For the cheesecake filling
For the blackberry coulis
For the decoration
Method
For the cheesecake bases, mix the crushed biscuits with the melted butter. Press this firmly into a 20cm/8in square baking tin and pop it into the freezer while you make the filling.

To make the filling, whisk the curd cheese, quark, eggs, green ginger wine and maple syrup together until smooth and light.

Remove the biscuit base from the freezer and sprinkle over the chopped stem ginger. Pour the filling on top and bake for 35-40 minutes until just set. Leave to cool in the tin and then chill until you're ready to assemble.

Make a blackberry coulis by putting the blackberries, sugar and 5 tablespoons water in a small pan. Bring to the boil, then simmer for 5 minutes. Stir in the vanilla, blend with a stick blender and strain through a sieve. Leave to cool then chill until needed.

To serve, cut the cheesecake into 9 squares. Lift carefully out of the tin onto a serving plate. Press a biscuit house upright against each cheesecake slice firmly. Place a blackberry on top of the cheesecake and dust with icing sugar. Serve with the blackberry coulis.
Recipe Tips
Make a house template with a width of 3cm/1¼in out of a piece of card. Cut around the template using a sharp knife and use a small round cutter to make a window.