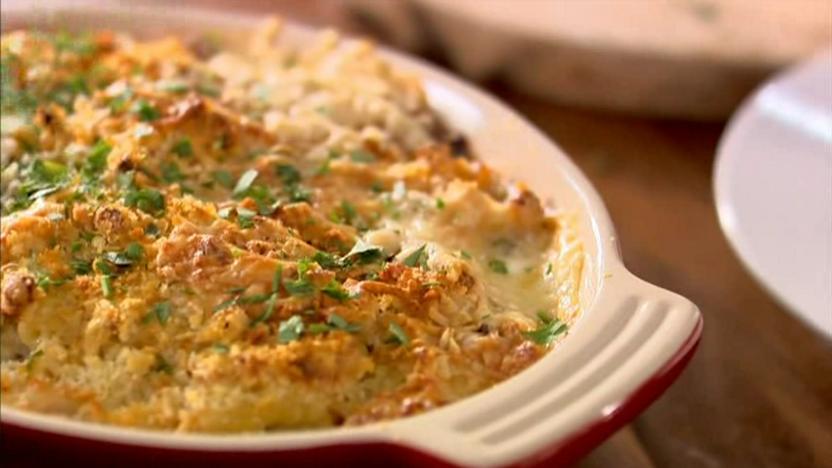 Mac and cheese is a classic 'just for the family' recipe, but serve this little number in individual bowls to make it worthy of any dinner party table.

Ingredients
For the cheese sauce
Method
Preheat the oven to 200C/400F/Gas 6.

Cook the macaroni in a large pan of boiling salted water, for 8-10 minutes, or until just cooked. (It needs to be just undercooked as the pasta will be cooked again in the oven.) Drain, return to the pan and set aside.

Meanwhile, fry the pancetta in a medium frying pan over a gentle heat until it just starts to brown and crisp up, then add the thyme leaves and spring onions and cook for a further 3-4 minutes. Remove the pan from the heat and add its contents to the pasta.

For the sauce, put the butter, flour, nutmeg and mustard in a small pan set over a medium heat and cook until the butter has melted. Mix the milk and cream together in a jug and add a little to the flour and butter in the pan, stirring well. Keep adding the milk mixture, bit by bit, stirring well each time.

Once all the milk has been added, turn up the heat and boil for a minute or two. The sauce will thicken considerably, then remove the pan from the heat. Add two-thirds of the dolcelatte (or gorgonzola) and parmesan to the sauce while it is still hot and stir together until well combined. It may be a bit lumpy, but that is fine. Season to taste with salt and pepper.

Add the sauce to the pasta mixture and stir everything together. Spoon the mixture into a shallow casserole dish or four individual large ramekins.

Sprinkle the remaining cheese and the breadcrumbs over the top and bake in the oven for about 20-30 minutes, or until the cheese starts to bubble and the topping is golden-brown.

Sprinkle with the chopped parsley.
Recipe Tips
If you are not a blue cheese fan a good British Cheddar will also suit instead.