Gingerbread cookie decorations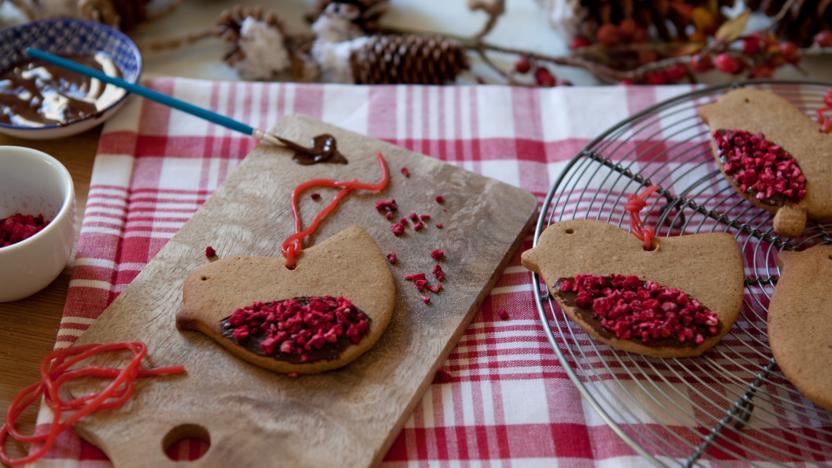 These gingerbread cookie decorations look like cute robins with freeze-dried raspberry tummies. They are delicious eaten on their own or hung on the tree. Freeze-dried raspberries add not just texture and taste to the biscuits but are a nod to the frozen temperatures associated with the festive season.


Method
Put both types of sugar, the golden syrup and the butter in a heavy-based saucepan. Set it over a medium heat and warm, stirring occasionally, until the butter has melted and the sugars have dissolved.

Transfer the mixture to a large bowl and leave to cool for about 5 minutes before beating in the egg. Sift over the flour and then the spices, one at a time, mixing gently after each addition, to make a soft dough.

Put the dough into a food bag, or wrap in cling film. Chill for several hours, preferably overnight, to firm up – this makes the dough easier to roll out.

Remove the dough from the fridge 15-30 minutes before rolling so it can soften slightly.

Preheat the oven to 180C/160C Fan/Gas 4.

Roll out the dough between sheets of baking parchment to the thickness of a £1 coin. If the dough seems very sticky, dust it and the parchment lightly with a little flour. Peel off the top parchment sheet, then cut out your bird shapes and use a cocktail stick or bamboo skewer to create the indent of an eye and hole to thread through your strawberry laces if making Christmas tree decorations. Bake the biscuits for 10–12 minutes until they are a rich golden-brown. Leave them to firm up for a few minutes on the baking tray, then transfer to a wire rack to cool.

Apply the melted chocolate to the birds using a paintbrush and sprinkle over your freeze dried fruit and red glitter if using. Leave to set before threading and tying your strawberry laces if creating gingerbread robin decorations.