Gingerbread cupcakes with salted caramel icing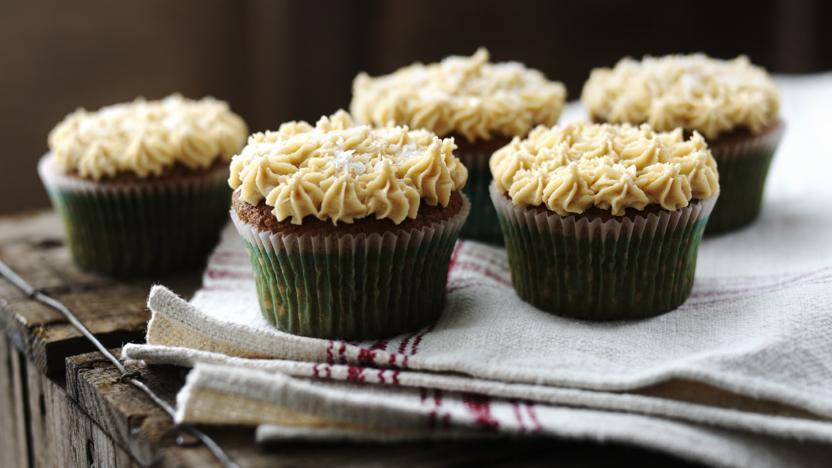 These easy ginger cupcakes are full of warm spices and make a great alternative Christmas bake. Top them with a sweet and salty caramel icing.
Ingredients
For the salted caramel buttercream
Method
Preheat the oven to 190C/375F/Gas 5. Line two 12-hole muffin tray with 15 paper cases.

Beat the butter and sugar together in a bowl until light and creamy. Beat in the treacle, syrup, eggs and egg yolks until well combined.

Sift together the flour, ginger, nutmeg, baking powder and salt. Add half of the flour mixture to the butter mixture, then beat in half of the warm milk. Add the remaining flour mixture and the remaining milk and beat until well combined.

Spoon the mixture into the muffin cases and bake for 20-25 minutes, or until well risen and lightly firm to the touch. Remove the cakes from the tin and set aside to cool on a cooling rack.

For the salted caramel buttercream, heat the caster sugar and four tablespoons of water in a saucepan over a gentle heat until the sugar has dissolved, then increase the heat and cook the caramel for 2-3 minutes, or until golden and slightly thickened. Remove the pan from the heat immediately and stir in the cream. (CAUTION: the caramel may splutter a little when you add the cream.) Stir in the salt and vanilla and set aside to cool completely.

Cream the butter and icing sugar together for at least 4- 5 minutes, then beat in the caramel. When combined pipe or spread the icing over the cup cakes and sprinkle with a little extra sea salt.

Decorate the cupcakes with the buttercream.