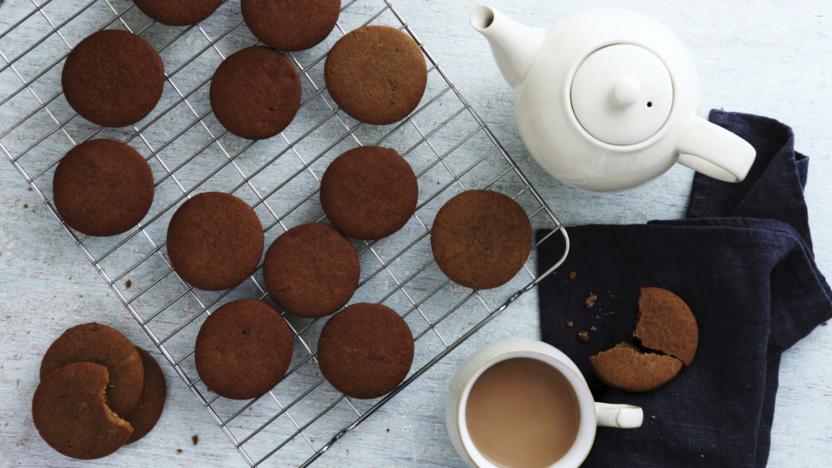 For the competition, Candice made a 3D pub scene out of gingerbread and biscuits. This recipe is just for the delicious ginger thins used to make the people and pub furniture.

For this recipe you will need a 5—6cm/2—2½in biscuit cutter, two large baking trays and a cooling rack.
Method
Preheat the oven to 180C/160C Fan/Gas 4. Line two large baking trays with baking paper.

In a saucepan, heat the butter, treacle, golden syrup, stem ginger and syrup, lemon zest and sugar over a medium heat until melted and well combined.

Sift the flour, ground ginger, cinnamon and nutmeg into a mixing bowl and stir together. Slowly add the warm wet mixture, mixing all the time with a wooden spoon until just combined. Briefly knead to bring the dough together.

Roll out the dough between two sheets of greaseproof paper (it is quite sticky) until about 3—4mm thick. Cut out shapes using a biscuit cutter and transfer to the prepared trays (the biscuits don't spread much so you can put them quite close together).

Bake for 15 minutes, or until firm and golden-brown. Place on a wire rack to cool completely.
Recipe Tips
The biscuit dough is quite sticky so it's better to roll it out between sheets of greaseproof paper because the biscuits need to be thin to get the best texture. Otherwise, you'd have to use a lot of flour to stop it sticking, which could dilute the flavours.
This recipe is from...
Recipes from this episode