Slow cooked gammon with mustard sauce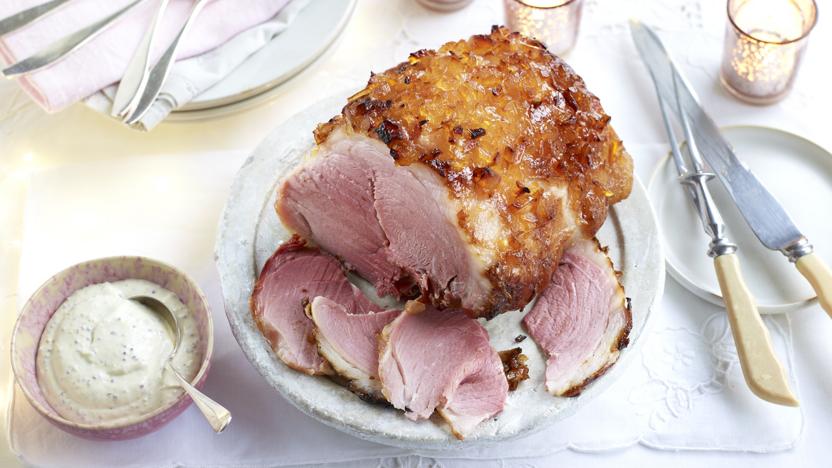 Mary Berry's slow cooked gammon with is perfect for feeding large numbers over Christmas. Can be served hot or cold.
Ingredients
For the gammon
For the mustard sauce
Method
Preheat the oven to 160C/140C Fan/Gas 3.

To make the gammon, put the gammon joint in a saucepan that fits snugly. Pour in the ginger beer and 1.2 litres/2 pints of water or just enough to cover the gammon. Cover with a lid, bring to the boil and boil for a few minutes. Transfer to the oven for about 2½ hours or until cooked through. Alternatively, simmer over a low heat for about 2½ hours.

Increase the oven temperature to 220C/200C Fan/Gas 7.

Remove the gammon joint from the liquid and, using a sharp knife, slice off the skin, just leaving a very thin layer.

Line a roasting tin with kitchen foil, sit the gammon, fatiside up in the tin and wrap the foil around the meat just leaving the top showing. Score the fat and drizzle over the ginger syrup. Scatter over the chopped ginger and press lightly so the top fat is covered.

Bake in the hot oven for about 25 minutes or until golden and glazed on top.

To make the sauce, mix all the ingredients together and season with salt and pepper.

Slice the gammon into thin slices and serve hot or cold with the sauce.
This recipe is from...
Recipes from this episode