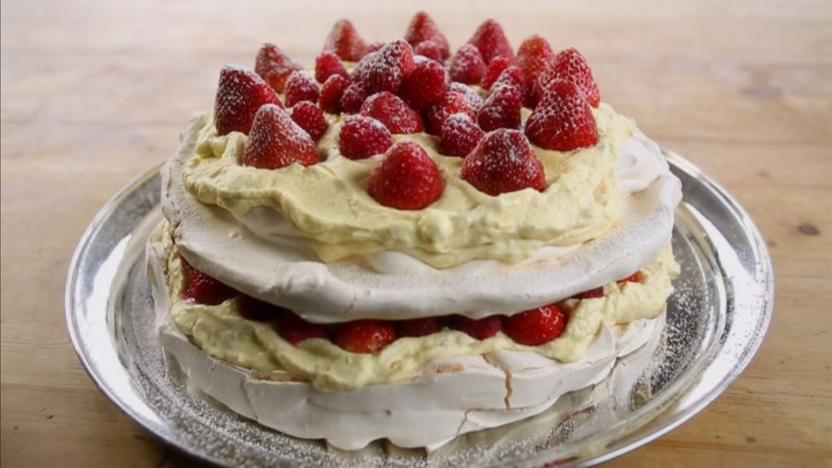 The Hairy Bikers don't do anything by halves, and this generous dessert is no exception. Just add friends.
Method
Preheat the oven to 180C/350F/Gas 4.

Line two baking trays with baking parchment.

Whisk the egg whites in a large bowl until stiff, shiny peaks form when the whisk is removed.

Add the sugar a few spoonfuls at a time, whisking well after each addition. When all of the sugar has been whisked into the egg whites, continue to whisk for 6-7 minutes or until the meringue mixture is stiff and glossy and stands up in peaks. Finally, whisk in the cornflour and white wine vinegar.

Divide the meringue mixture equally between the two lined baking trays, spooning the mixture into the centre and spreading it into circles that are roughly 25cm/10in in diameter, using a palette knife.

Reduce the oven temperature to 120C/250F/Gas ½, then bake the meringues for 1½ hours. After 1½ hours, turn off the oven and leave the meringues inside until they have completely cooled

Meanwhile, place the berries, orange juice and orange zest into a saucepan. Bring the mixture to the boil, then reduce the heat until the fruit is simmering gently and continue to simmer for 10-15 minutes, or until the fruit is starting to break down. Remove the pan from the heat and set aside, covered, until the stewed fruit has completely cooled.

Whip the cream in a large bowl until soft peaks form when the whisk is removed. Fold in the cooled stewed fruit to create a marbled effect.

When the meringues have cooked, gently peel off the baking parchment.

To serve, place one of the meringues onto a serving plate or cake stand. Spoon half of the cream and fruit mixture on top of it. Top with the second meringue and spoon over the remaining cream and fruit mixture. Dust with icing sugar and serve immediately.