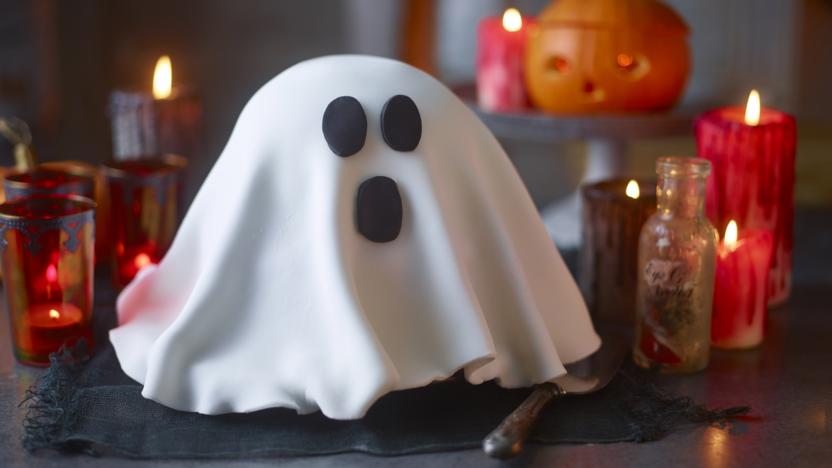 This spooktacular ghost cake is surprisingly simple to make, just whip up some Victoria sponges and get creative with fondant. The perfect showstopper for a Halloween party.

To make a dome shape for the ghost's head you will need a hemisphere cake tin or rounded oven-proof bowl that is 18cm/7in or less in diameter. If using a bowl, place it inside a regular cake tin or on a baking tray to make it more sturdy in the oven.
Ingredients
For the sponges
For the buttercream
To decorate
Method
Preheat the oven to 180C/160C Fan/Gas 4. Grease and flour the hemisphere cake tin or bowl. Grease 3 x 18cm/7in cake tins and line with baking paper.

Cream the butter and the sugar together in a large bowl until pale and fluffy. Gradually beat in the eggs and stir in the vanilla extract.

Fold in the flour, adding a little extra milk if necessary, to create a batter with a soft dropping consistency. Divide the mixture between the cake tins and gently spread with a spatula.

Bake for 20-25 minutes, or until golden-brown on top and a skewer inserted into the middle comes out clean. Remove from the oven and set aside for 5 minutes, then remove from the tins and peel off the paper. Place onto a wire rack and leave to cool.

Meanwhile for the buttercream, beat the butter in a large bowl until soft. Add half of the icing sugar and beat until smooth. Add the remaining icing sugar and 2 tablespoons of the milk and beat the mixture until creamy and smooth. Beat in more milk, if necessary, to loosen the mixture.

When the sponges have cooled assemble the cake. Place one of the regular sponges on a round cake board and spoon buttercream on top, top with another sponge and continue with layers of buttercream and the remaining sponges, finishing with the hemisphere sponge. Then carefully smooth the remaining buttercream over the whole cake (the white fondant will be draped over the cake so the buttercream does not have to look perfect!).

Roll the white fondant into a large circle that is wide enough to drape over the whole cake. Place the white fondant over the cake, making sure it covers the cake evenly. Then press down on the fondant to hold it in place.

Use the black fondant to make eyes and a mouth and stick them on the cake with a little apricot jam.