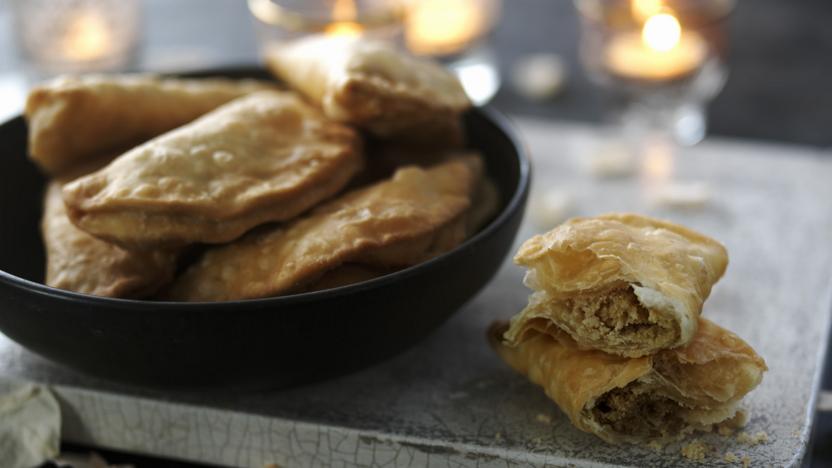 These delicious sweet pastries, filled with coconut and sweetened semolina, are traditionally made to celebrate Diwali.
Method
Sift the flour into a bowl and rub in four tablespoons of the melted butter. Add a little water at a time to form a soft dough, you may not need to use all the water. Knead the dough for about a minute until it is smooth, cover with a damp cloth and set aside.

Gently heat the remaining butter, then add the semolina and increase the heat to medium. Cook, stirring continuously for about 5-10 minutes or until the semolina is a light brown colour. Add the remaining ingredients, except for the sugar, mix well and cook for a minute. Remove the pan from the heat, add the sugar and set aside to cool.

Divide the dough into 25 small balls.

Roll one ball into an 8cm/3in circle and place two teaspoons of the semolina mixture at one end. Fold the pastry in half, press the ends firmly together and crimp to form a secure seal. Repeat this with remaining dough and filling.

Fill a deep-fat fryer or a large, deep, heavy-bottomed pan two-thirds full with vegetable oil. Heat the oil to 180C/350F, or until a breadcrumb sizzles. (CAUTION: Hot oil can be dangerous. Don't leave unattended). Fry the ghoogras for 2-3 minutes, or until golden-brown. Remove from the pan with a slotted spoon and set aside to drain on kitchen paper.