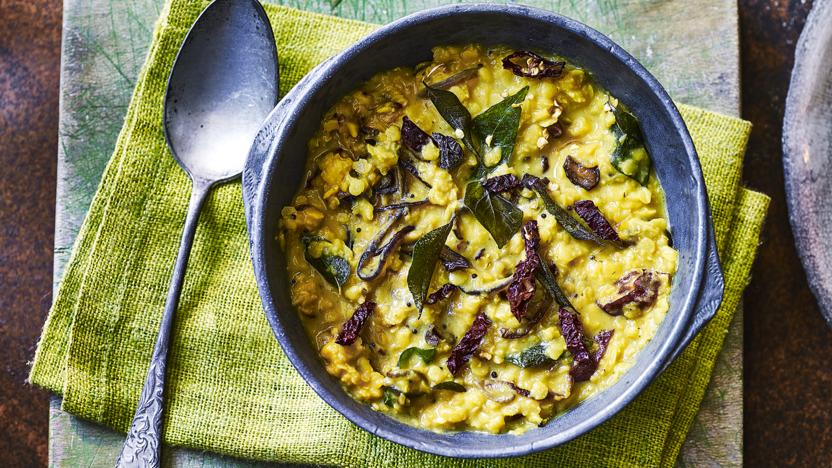 This is a simple and authentic Sri Lankan dal from newsreader George Alagiah's family cookbook.
Method
Wash the lentils several times in clean water to remove the starch.

Place the lentils in a large saucepan and add 500ml/18fl oz water, the turmeric and garlic. Bring to the boil, then reduce the heat and cook for around 15 minutes. Stir in the coconut milk and continue to cook for a further 5 minutes or until the lentils are cooked and the dal has thickened. Season to taste with salt.

In a separate small frying pan, melt the butter with the oil on a low heat. Add the curry leaves, mustard seeds and chilli. Gently fry for 1–2 minutes, then add the onion and continue to cook for a few minutes, stirring all the time until the onions are golden and caramelised.

Add this mixture to the lentils and stir together. Remove the garlic cloves before serving. If you want to make the dal look attractive, garnish with a few fried curry leaves and sliced chilli (optional).
Recipe Tips
If it's important that this recipe is gluten free, check the label on your lentils – they do not contain gluten but may be processed in factories that do, so there is a risk of cross contamination.
This recipe is from...
Recipes from this episode