Gazpacho shots with pimenton and caraway seed twists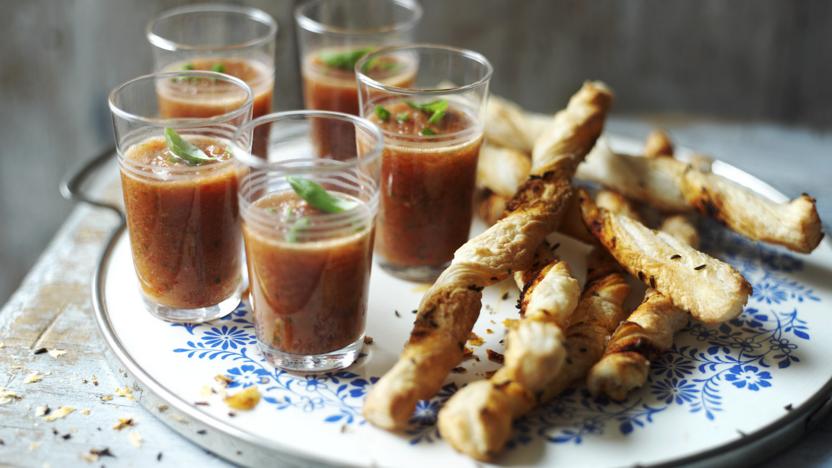 The weather needs to be sizzling hot to really enjoy an ice cold glass of gazpacho. This recipe makes savoury pastry twists to set off its punchy flavour.
Ingredients
For the twists
For the gazpacho
To serve
Method
Preheat the oven to 200C/390F/gas 6. Lightly grease 2 baking sheets.

Roll out the puff pastry on a lightly floured surface until 0.5cm thick. Cut the sheet into 10 strips, each 1cm/½in wide. Brush each strip with olive oil and sprinkle lightly with pimenton, caraway seeds and salt. Twist each end of the strip and place onto the baking sheets, spaced apart. Chill for 10 minutes in the fridge.

Bake the twists for 10-15 minutes, or until crisp and golden-brown. Carefully transfer to a wire rack to cool.

For the gazpacho, place the cucumber, celery, garlic, spring onions, peppers and tomatoes into a food processor and blend until smooth. With the motor running, add the passata, olive oil, vinegar and Tabasco. Season, to taste, with salt, freshly ground black pepper and vinegar.

Spoon the gazpacho into chilled shot glasses and garnish with a sprinkling of chives and basil. Serve the pimenton and caraway seed twists alongside.