Gammon steaks with leek fritters and carrot pickle
The pickle that comes with this gammon supper isn't just perfect for cutting through the rich pork flavour, it's also a doddle to make. You just need a few hours steeping time!



Ingredients
For the pickle
For the gammon steaks
For the fritters
To serve
Method
To make the pickle, boil all the ingredients (except the carrots) with 200ml/7fl oz water in a saucepan. Put the carrots in a bowl and pour the hot liquid over the grated carrots. Leave to steep for a few hours before serving.

To make the gammon steaks, heat a dash of oil in a pan and fry the gammon on both sides for 5–6 minutes, or until cooked though. Mix together the honey and Dijon mustard in a small bowl. Immediately brush the steaks with the mixture and leave in a warm place to rest. Slice before serving.

To make the fritters, pre-heat a deep fat fryer to 180C (CAUTION: hot oil can be dangerous. Do not leave unattended.)

Mix all the ingredients except the chickpea flour together and season well with salt and freshly ground black pepper. Squeeze out the excess water, then mix in enough flour to bind the mixture. Form into flat patties.

Carefully lower the patties into the hot oil using a slotted spoon and deep-fry until golden-brown. Carefully remove using a slotted spoon and drain on kitchen paper.

Serve the gammon with the fritters and pickle and garnished with the dandelion leaves, if using, and watercress.
This recipe is from...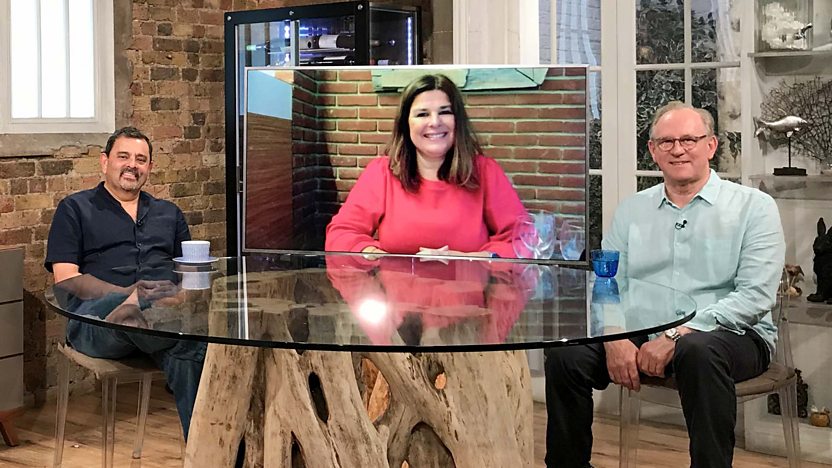 Saturday Kitchen
03/10/2020