Gammon and chips with pineapple and greens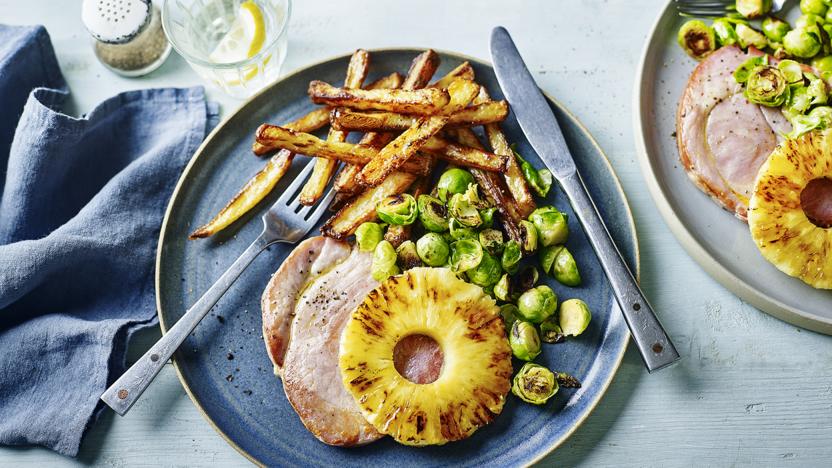 A pub classic made a little healthier for when you want a little treat. Stir-fried Brussels sprouts are a world away from soggy boiled ones.

Each serving provides 517 kcal, 38g protein, 48g carbohydrate (of which 12g sugars), 17g fat (of which 5.5g saturates), 9.5g fibre and 4.1g salt.
Method
Preheat the oven to 220C/200C Fan/Gas 7.

Scrub the potatoes well, then half-peel them, leaving some of the nutritious skin on for extra flavour. Cut into fairly thin chips – about 1cm thick – which will crisp more easily. Put into a saucepan and cover with cold water. Cover the pan, bring the water to the boil over a high heat and cook the potatoes for 3 minutes. Drain and allow to steam dry for 2-3 minutes.

Put the olive oil into a baking tray and heat in the oven for a minute. Add the drained, dried chips to the hot oil, giving the tray a gentle shake to separate the chips. They should be in a single layer. Season with a little salt and black pepper, then bake for 30-40 minutes, turning the chips halfway through cooking to move the outer chips to the middle and vice versa so they all crisp evenly.

Meanwhile, spray a frying pan lightly with spray oil. Heat the pan over a medium-high heat and, when hot, add the pineapple rings. Fry for 2 minutes per side, turning regularly, until the slices are golden-brown and caramelised. Set aside.

Reduce the heat to medium, spray the gammon steak lightly with spray oil and fry in the same pan for 4-5 minutes, turning regularly, until the steak is nicely browned and cooked through. Set aside.

Return the pan to the heat and add the Brussels sprouts. Stir-fry the sprouts for 3 minutes, adding a splash of water if necessary, until they are bright green but still retain a bit of bite.

Serve the gammon steaks with the pineapple on top, with the stir-fried sprouts and chips alongside.