Game sausage roll with wild mushrooms and pickled walnuts
This moist, hearty sausage roll is full of flavour - a great way to try seasonal game. Bryn Williams makes one sausage roll to share, but you can make two if you prefer.

Ingredients
For the game sausage roll
For the garnish
To serve
Method
For the game sausage roll, preheat the oven to 180C/160C Fan/Gas 4.

In a large bowl, mix together the minced pork and minced game. Mix in the eggs, thyme, chestnuts and allspice until well combined, then season, to taste, with salt and freshly ground black pepper. Set aside.

Roll out the puff pastry onto a lightly floured work surface to a rectangle measuring approximately 30x20cm/12x8in.

Shape the mince mixture into a sausage about the same length as the longest edge of the rectangle. Place it on top of the pastry, then roll the pastry around the filling mixture, pressing the ends to seal and crimping with a fork.

Brush the top of the sausage roll all over with the beaten egg yolk, then bake in the oven for 15-20 minutes, or until the pastry has risen and is golden-brown.

For the garnish, heat the butter in a large frying pan over a medium heat. Add the mushrooms and fry for 4-5 minutes, or until all of the water has been released from the mushrooms and has evaporated.

Add the double cream and bring the mixture to the boil.

Transfer the pan contents to a food processor and blend to a coarse purée. Add the mustard and pulse to combine.

To serve, slice the sausage roll into thick slices and divide the slices equally between 2 plates. Spoon the mushroom garnish alongside. Garnish the sausage roll with a few pieces of pickled walnut and a dandelion leaf.
This recipe is from...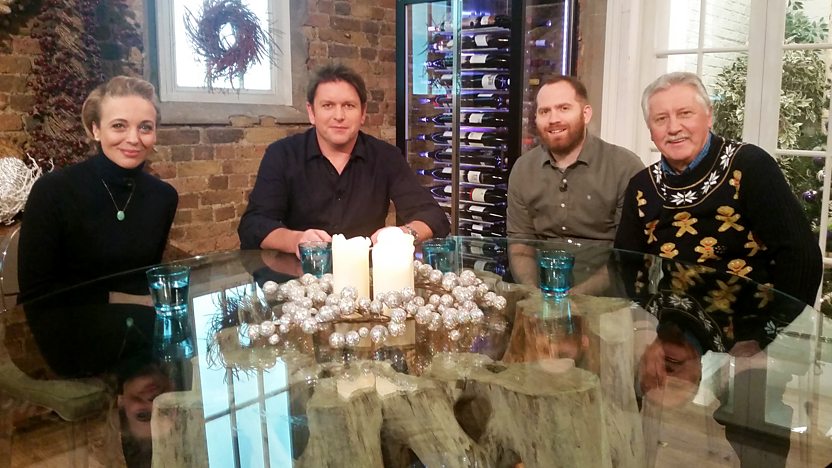 Christmas Kitchen
Episode 8
Recipes from this episode