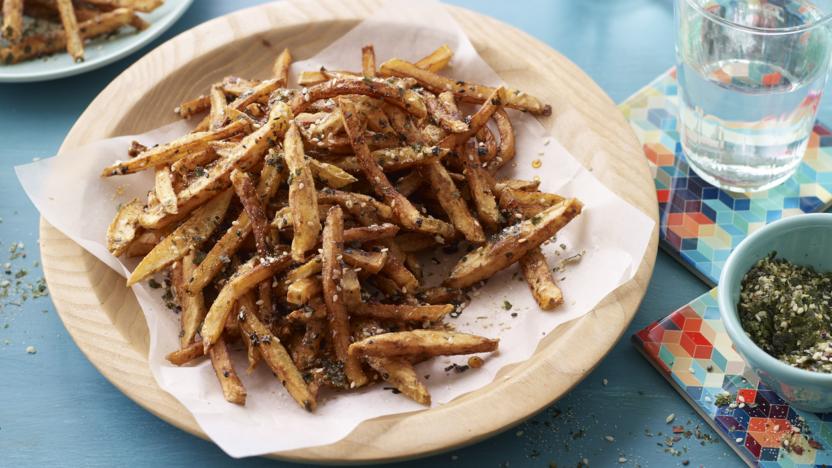 Japanese-style fries. These matchstick fries are beautifully crisp, but it's their sweet and salty coating that is the real star of this recipe, sprinkled with a nutty, garlicky, seaweedy deliciousness.


Ingredients
For the seasoning mix
For the fries
For the sticky sauce
Method
For the seasoning mix, put the nori sheets, garlic and chilli flakes into a food processor and blitz until the nori has broken up. Transfer into a bowl and add the white and black sesame seeds. Mix and set aside.

To make the fries, thinly slice the potatoes, then cut them into thin matchsticks. Put them into a bowl of water. Have a damp towel at the ready to wrap the fries and stop them browning when you take them out.

Put a large saucepan on a high heat and add the oil. When the oil is hot, drop in a piece of potato and if it rises to the top, the oil is ready for frying. (CAUTION: hot oil can be dangerous. Do not leave unattended.)

Heat the oven to 180C/160C Fan/Gas 4 to keep the fries warm. Have two baking trays ready, lined with kitchen paper.

Dry the matchstick potatoes in the towel, then put a large handful into the oil. Don't overcrowd the pan – fry them in batches. Once the fries are golden-brown they are ready – this should take about 3 minutes. Take them out with a slotted spoon, put them on the prepared tray, and place them in the oven to keep warm.

Once all the chips have been fried, transfer them to a serving dish.

Mix together the honey, fish sauce and oyster sauce. Drizzle all over the chips and toss to make sure that they are all lightly coated. Sprinkle generously with the seasoning mix, and serve while still warm.
This recipe is from...
Recipes from this episode